Here's the thing: even the most seasoned advertiser can get it wrong. We all know Facebook ads are a must, but so many of us are not getting the results that we want for the budget we have; I found myself saying, If I knew then what I know now, quite a lot in the beginning.
Whether you're new to Facebook advertising or are just not seeing the results you want from your campaigns, by learning from others' mistakes you can get high-performing Facebook ads in less time, for less money. Here are the biggest things I wish I had known on day one.
1. To Stop Nasty Trolls in Their Tracks
Being a firm believer in engaging with every comment, even the bad ones, as a store owner, I normally wouldn't advocate for stores to delete bad comments on their ads. However, as any dropshipper knows you are bound to get a boat-load of negative comments from trolls that have never bought from you – or just want to harm your brand – and they are just not worth engaging with. There is a simple fix for this: automatic deletes!
To do this, go to the settings for your Facebook page and click on 'page moderation.'


You can insert any terms or wording that you wish to block on your page and in posts. This will automatically hide any comment that contains any of these words.
2. To Hack Ad Budgets
Most of us have limited budgets, which means we need to get the most reach, engagement and traffic for our money. Of course, all of the points mentioned below will ensure that you're hacking your budgets, but there are other tweaks to consider to ensure better results for your spending, such as:
Going deeper into ad scheduling to ensure you're running campaigns at peak-performance times…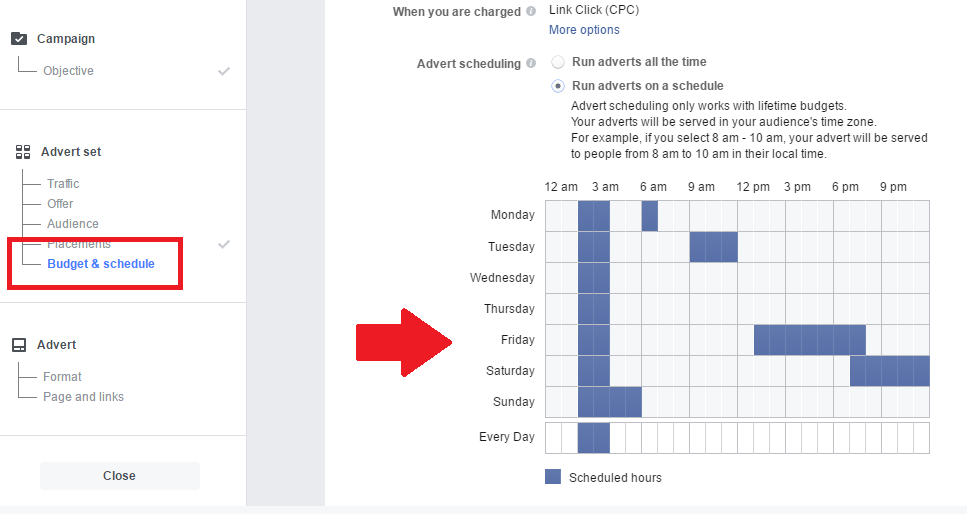 …and matching ad delivery to times when your sales conversions are higher.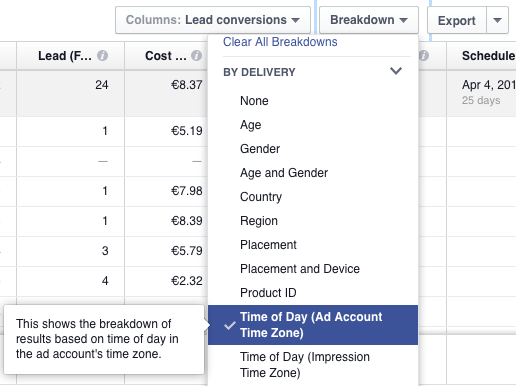 3. To Change Design and Ad Copy
As I mentioned above, your audience is likely to see your ads more than once. If you're not mixing up your images and ad copy, they're going to get very bored very quickly. Especially if you're running the same campaign for extended periods of time. Regardless of whether you're marketing the same top-converting product, or pushing traffic to your site through Facebook's traffic campaigns, mix it up by editing images and headlines every two weeks.
4. To Add Videos to Facebook Ads
Facebook reach is all about video, and by not including videos in your campaigns there is a big chance your reach and engagement won't be where it should be. Like we learned from those 2016 Viral Product Ads, the beauty of Facebook videos is that they don't have to be high-budget productions to get good traction. Plus we recommend that you add subtitles, as most viewers will see your content without sound. You don't even need to produce them yourself at all: there are ways you can get your hands on viral videos that you can use for your ads, copyright-free.
5. To Not Waste Budget on Unnecessary Ad Placement
Before choosing your Facebook ad placement, check in with your Google Analytics. Facebook offers a wide variety of placement options, but to ensure you are getting the clicks, you need to know where your audience is.

To optimize placement ask yourself – and Analytics – which device or platform are your shoppers using when they click to, browse and buy on your online store? You can even narrow your placements down to the device type. Say you've been selecting broad placement, but your store traffic comes majorly from mobile; you may find that your CTR for your ads is lower and ultimately results in…