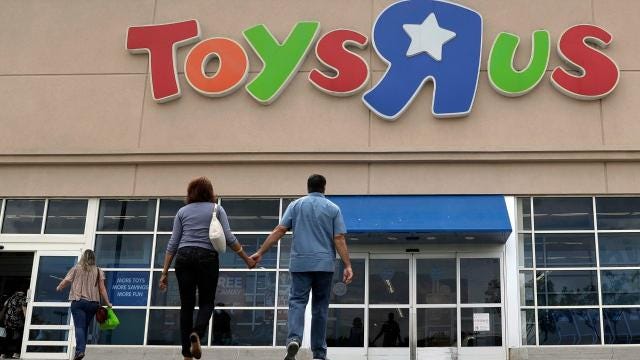 Looking for going out of businesses deals? Got unused gift cards? Here's what shoppers need to know as Toys R Us shuts down its stores. USA TODAY
JENSEN BEACH, Fla. — Toys R Us stores are entering their final days and ramping up the deals.
The iconic toy retailer announced a new round of markdowns were taken Monday on its social media accounts. Discounts now range from 50% to 70% with "limited exceptions," according to the Facebook post.
Nearly three months after Toys R Us said it would liquidate all of its U.S. stores, shoppers are finding deep discounts. "Final Days! Amazing Deals!! Time to fill up a cart!!," the Facebook post reads.
Just one problem. Some of the most valued, in-demand merchandise was snapped up weeks ago.
More: IHOP, or if you prefer, IHOb, bets big on name-change burger stunt
More: Pucker up! Sonic's new Pickle Juice Slush now available nationwide
More: Sears will close 63 more stores. Is yours on the list?
Those looking for Nintendo and PlayStation video game systems may leave disappointed. But kids who appreciate Lego sets, board games, Barbie dolls, Star Wars toys, Nerf guns and more, can still come away winners if they act fast.
Prices on most items are now beating competitors like Amazon, Walmart and Target and rivaling Black Friday doorbuster deals.
"The prices are getting good," said Rita Hasselbach, of Port St. Lucie, Fla., who visited the Toys R Us in Jensen Beach. "I'm looking for games that I can donate to charities and shelters."
For the Jensen Beach store, on Florida's east coast some 100 miles away from Miami, June 28 is slated to be the last day before the doors close forever, said Andrew Wiggins, a supervisor at the store who has been with the company for more than five years.
"That's completely subject to change and it depends on how fast everything sells through," Wiggins said, adding he's heard 98% of stores are expected to close by the end of the month and that all stores will be closed by the end of July.
As inventory sells out, portions of stores and empty aisles are being closed off with yellow caution tape and other barriers and merchandise is being moved to the front.
Inventory, discounts and closing dates can vary by location and a list of closing dates was not available.
"The store closure's timing and discounts will vary, as it depends on how quickly each location sells out of inventory," said Toys R Us spokeswoman Amy von Walter. "I don't have timing on…