Sears: The Longest Unofficial Liquidation Sale In History Continues
Shutterstock
Amazon.com (AMZN) is eating everything retail alive – including most retail REITs. As a result, the entire sector is selling at fire prices – leaving us with a select handful of underappreciated bargains.
Why the panic? Amazon has completely transformed retail over the past decade or so, starting with books, but expanding into just about every corner of the traditional retail market – clothes, electronics, home goods and even staples like toilet paper and laundry detergent. The company gobbled up $98 billion in "electronics and other general merchandise" sales across all of 2016 – an expansion of nearly 30% that shows Amazon's growth in e-tailing is still rampant.
So, as you sell your retail-related dividends, don't forget to ditch their landlords. As more storefronts shut down, REITs that lease retail space are getting clobbered.
The Vanguard REIT ETF (VNQ) – a broad collection of REITs that spans commercial, residential, industrial, healthcare and other types of real estate – has advanced 33% in the past year or so (excluding dividends). Compare that to some of the bigger names in retail real estate: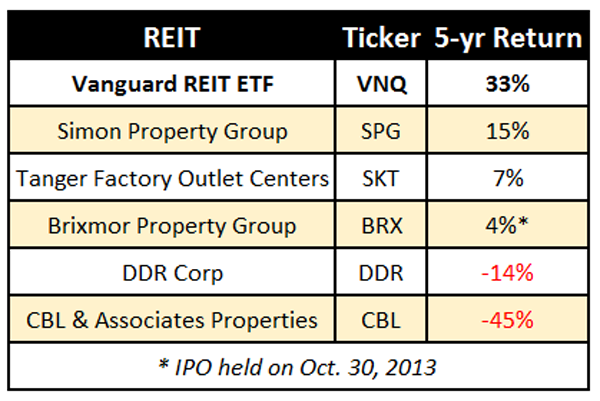 But this panic has created a few select bargains. Not all retail space will be gobbled up by Jeff Bezos & Co, after all – but all retail REITs are trading like their days are numbered. Here are three "Amazon-proof" firms that will continue growing their dividends in the years ahead.
Realty Income (O)
Dividend Yield: 4.1%
Continued from page 1
Some Stocks Usually Get A Santa Spike, Some Get A Lump Of Coal
We all know Realty Income (O) as the self-proclaimed "Monthly Dividend Company" – a moniker it deserves given its 561-month streak of uninterrupted dividends and 78 consecutive quarterly payout increases.
While most retail REITs have mostly been pounded into the dirt over the past few years, Realty Income has remained a low-risk winner. Even after a pronounced dip in late 2016, O shares have advanced nearly 60% — roughly double the VNQ – without even factoring in its monthly dividends.
The key to Realty Income's resilience is its portfolio. Realty Income boasts more than 4,900 commercial properties across more than 30 retail…