Summary
Costco posts impressive numbers for March.
This plays into our thesis that brick and mortar retail isn't dead, it's just shifting.
There are bargains to be bought in the sector.
By Parke Shall
For the last couple of months, we have been trying to make an argument that the retail sector is not doomed for imminent death, but rather is undergoing a large shift that is seeing some traditional retail names struggle with growth in a new environment where online sales play a large role. This argument has been the basis for several investments we have made in the retail space. Just yesterday we wrote an article talking about where we would position some money in retail, on the long side, with the market traveling sideways the way that it has been.
Retail is one of the cheapest sectors out there right now and we think there are some opportunities. Costco's (NASDAQ:COST) announcement this morning that March sales were positive pretty much across-the-board lead us to believe that it is the business model that determines how well the brick-and-mortar stores do, and that it is not sensible to just give up on any and all brick-and-mortar retailers and say they are all going to die. This morning, Costco announced the following results for March,
Costco's net sales grew 9% Y/Y to $11.64B in March.
Comp sales +6%. U.S. +7%, Canada +3%, Other international +4%.
Excluding the effects of gasoline prices and currency swings, comparable sales increased 5%; U.S. +6%, Canada +3%, Other international +6%.
We presented a relatively simple argument in previous articles about retail. We think that retail stocks are valued too conservatively and we believe that all retail companies, even those primarily dealing in brick and mortar, are not going to be subject to bankruptcy and hard times the way that retailers like Sears (NASDAQ:SHLD) and companies like RadioShack have in the past.
To make our case, we usually bring up companies like TJ Maxx (NYSE:TJX) and Ross (NASDAQ:ROST). They have successful in store brick and mortar retail models that are generating tons of cash and holding consumer interest.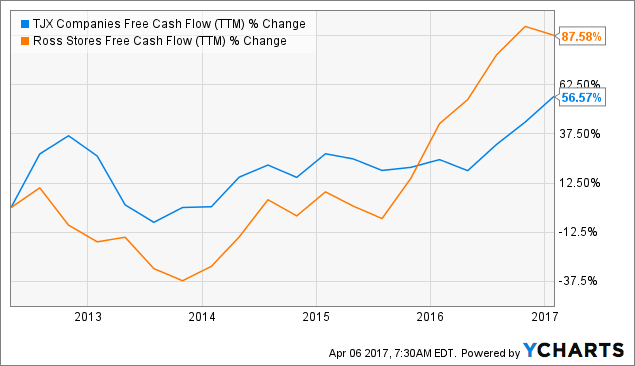 TJX Free Cash Flow (NYSE:TTM) data by YCharts
They are doing it by offering a dynamic inventory that is only available in stores at prices that make the trip to the store worthwhile for consumers. The…