By Matthew Carr
For investors, retail has been a tough arena.
Over the past year, the Consumer Staples Select Sector SPDR ETF (NYSEARCA:XLP) and the Consumer Discretionary Select Sector SPDR ETF (NYSEARCA:XLY) have trailed the Dow Jones Industrials, S&P 500 and Nasdaq… and by a significant margin.
I've written this here before, but U.S. brick-and-mortar retail is dying.
American retailers are closing stores at the fastest pace ever. Roughly 10% of mall retail space – or 1 billion square feet – is on the verge of being closed, having rents slashed or transformed into something else. And in March, retailers cut 30,000 jobs, the same as in February. It was the worst two-month span of job cuts for the sector since 2009 – during the depths of the Great Recession!
This year, as many as 8,640 total stores may close, which would outpace the 6,200 closed in 2008.
And as I've pointed out for years, it's because the companies failed to adapt. They were slow to recognize the changing tides, and are now being destroyed by a single company… Amazon (NASDAQ:AMZN).
A mammoth no one can seem to beat… at least not in the U.S. But as you'll see, others have had success elsewhere.
The fact of the matter is that e-commerce and mobile commerce (m-commerce) are quickly becoming more and more important to retail. And these avenues are essential to growth. Because not only is Amazon the biggest player here, it controls more of e-commerce sales growth than all other U.S. retailers combined.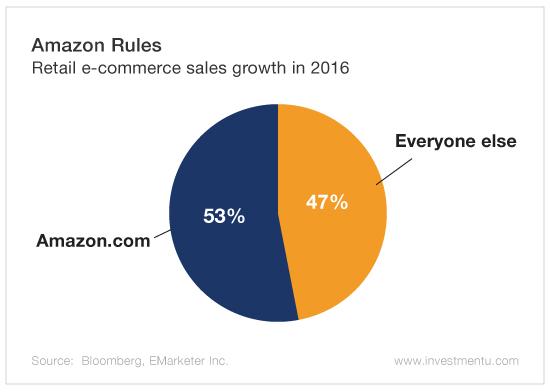 Let's be honest… Amazon won the U.S. e-commerce and mobile markets. Wal-Mart (NYSE:WMT) is so far behind, Warren Buffett liquidated his stake in the company.
But the U.S. is just one jewel Amazon wants in its crown. It's looking to dominate internationally. But that's easier said than done.
We've seen that, outside the U.S., Amazon can be beaten. (And U.S. retailers should take note.)
The Hungry Dragon
Outside the U.S., investors should understand retail is attractive. Especially online retail.
And China tops both lists. That's because of not only size (with China's population four times that of the U.S.), but also the tremendous growth.
In the first quarter, China's GDP grew faster than expected, increasing 6.9%. The days of its economy growing at double-digit rates seem to be…