Summary
Retail REITs are out of favor today, and as a contrarian investor, this gets me excited.
The fears over the growth of e-commerce are way overblown in my opinion. Retail REITs are well positioned to perform well in the long run given today's low valuations.
My top three picks among Retail REITs include two "deep value" and one foreign REIT. All three trade at low FFO multiples and abnormal dividend yields relative to their peers.
I continue my series of "Top 3 REIT" articles with the retail property sector. In case you are new to this series, I have already covered the net lease, healthcare and hotel sectors in previous articles. As a reminder, through this series, I aim to identify the top 3 REITs that have the best overall risk to reward ratios within each property sector. In this sense, I look for REITs that are undervalued relative to their peer set and that have good chances of outperforming their sector average going forward. Today, I cover my top 3 Retail REIT picks, and next I plan on sharing my top 3 Office REITs in the coming days. If you are interested in this series, please take 2 seconds to click the "Follow" button next to my name.
Retail REITs are the largest single sector in my REIT portfolio today. This is because I follow a contrarian strategy and can find lots of value in the sector today. The broad retail sector has been hit hard by fears over the growth of e-commerce and the retail REITs have not been an exception to the market sell-off.
My today's picks within the retail sector are very reflective of my contrarian philosophy. There exists many high-quality names within the sector, including Simon Property Group (NYSE:SPG), Taubman (NYSE:TCO) and Macerich (NYSE:MAC), but I do not believe that they present the most compelling opportunities today. While these blue-chip big names are not too expensive by any means, I find more value in smaller-cap and foreign retail REITs at today's market prices.
To put this into perspective, the names mentioned above all trade between 15-20 times FFO while my picks are closer to 10x with a range of 5 to 12. A lower FFO multiple of course does not imply that a REIT is undervalued, but in this case, I consider the valuation gap to be excessively large relative to the underlying differences in quality.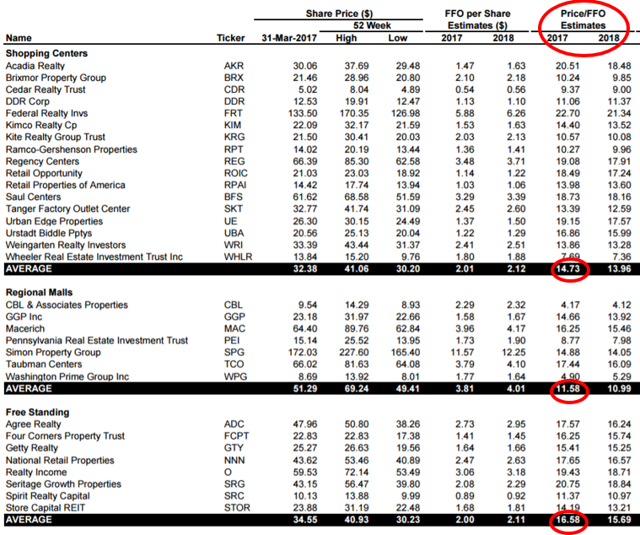 Source: NAREIT
The above table is provided by NAREIT and shows the average FFO multiples paid for different retail REIT segments today (circled in red). Shopping center REITs trade at 14.7 times expected 2017 FFO, regional malls at 11.6x and free standing REITs at 16.6 times. Note how the ranges are very large with certain REITs trading at 4 times FFO and others such as Federal Realty (NYSE:FRT) or Realty Income (NYSE:O) at more than 20 times.
Out of my three favorite picks, I hold today two in my personal portfolio. I would be glad to include the third one as well, but my exposure to the retail sector is getting too high, and I must set limits to reduce my portfolio risk. You can get an overview of my REIT portfolio here in this past article.
Without further ado, here is a quick summary of the buy theses of my 3 favorite retail REIT picks as of April 2017:
Washington Prime Group (NYSE:WPG): Class B Mall Opportunity / 5x FFO / 11.4% Yield
WPG is a Class B mall REIT that has gotten oversold simply because concerns over malls are overblown. It is clear that e-commerce will keep on growing and certain tenants will suffer. That said, WPG is not a retailer; it is a landlord. If tenants vacate, it can replace them with other ones that may be more resilient to e-commerce.
Despite not showing any major fundamental flaws, WPG is one of the cheapest REITs today based on NAV discount and FFO multiple. It is trading at approximately 40% discount to NAV and 5 times its FFO.
While the stock price declined, WPG has consistently improved the quality of its portfolio by selling low-quality properties, redeveloping malls and decreasing its debt. Over the years, most major metrics have remained stable or even improved: same center NOI increased at core assets; sales per square foot stable at close to $400; occupancy rate of core properties consistently above 90%.
WPG has an investment grade rating and ample liquidity to keep on executing its strategic plan of redeveloping certain properties and improving its portfolio quality.
Its 11.4% dividend yield appears to be safe with a conservative 1.5x coverage ratio.
Conclusion: WPG is today trading at a highly opportunistic price due to fears that are yet to really materialize. As, I recently noted in a separate article: with the double-digit dividend yield, WPG does not need to offer up any dividend growth nor capital appreciation to richly reward shareholders. The same case could be made for CBL (NYSE:CBL) which trade at an even cheaper valuation, but…