Some retail is healthy enough to poach workers from fast food
Fazoli's, Boston Market offering more perks to retain workers
Customers cussed at him and threw ice cream at him. Finally, Don-Wesley Andrews had enough. He quit McDonald's in Sacramento, California, for a job at Wal-Mart.
Like many other Americans, 22-year-old Andrews improved his life just by moving to retail from fast food. Longer lunch break, paid time off, even a quarterly bonus — and no french fry fragrance clinging to his clothes.
"Wal-Mart's not perfect, but compared to fast food, it's much, much, much better," Andrews said.
There's plenty of talk about the retail industry dying, with malls closing and the slump stressing iconic chains like Sears Holdings Corp. and J. Crew, but healthier big-box giants such as Wal-Mart Stores Inc. and Costco Wholesale Corp. are still chronically in need of employees, at least for now. The number of U.S. retail jobs was about the same last year compared with 2015, according to the Bureau of Labor Statistics. What's really bedeviling retailers is annual turnover — at 65 percent, it's the highest since before the Great Recession — making it necessary to keep hiring. The chains are so hungry for good help they're poaching workers from fast-food restaurants.
"Those jobs tend to be more transitional, they tend to be more fluid, and as a result there tends to be higher turnover," said Michael Harms of Dallas-based researcher TDn2K. "Even though you hear headlines like retail is dying and the robots are coming, there's still a lot of things that need human touch points. It's a dogfight over good employees."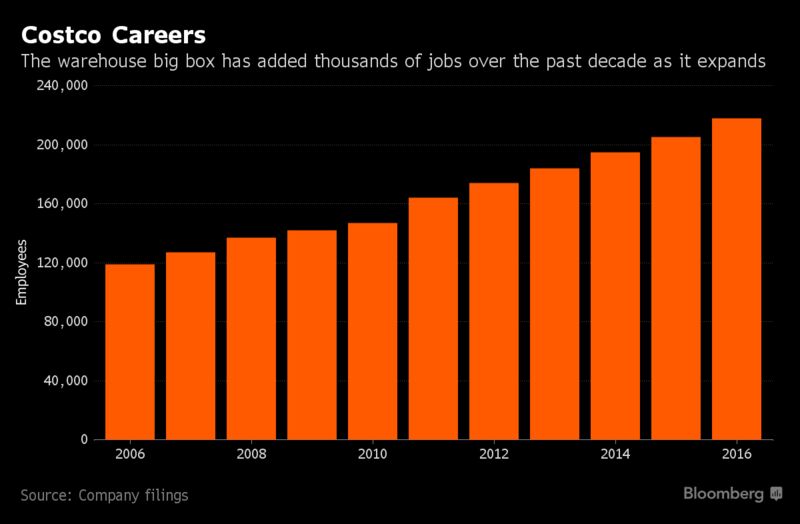 When it comes to pay, stores have the edge. U.S. retail sales workers earn a median $10.37 an hour, while food workers, including those at fast food, make $9.35, according to new data from the BLS.
Andrews said he earns $12.12 an hour at his new job. Perhaps not coincidentally,…