Summary
Macy's is down 17 percent after reporting disappointing results.
A review of several other retail companies by the numbers.
Where to find sustainable growth in retail.
Introduction
Retail sales came in higher in April with an increase of 0.4 percent, but below consensus expectations of 0.6 percent. That is an improvement from March which was revised to an increase of 0.1 percent. Because of the slow sales in March, expectations were for a robust increase. It was good but not quite robust. We expect more of the same in the future as the retail environment goes through more than one evolutionary transition at the same time.
More and more retail sales are moving from brick and mortar stores to online. This is causing problems for many large retail chains, especially in the department store and clothing categories. It is also causing problems for mall operators. The younger generations are showing a significant preference to shopping online. Brick and mortar retailers are being left behind by this attitudinal shift and need to adjust to survive.
The baby boomer generation is either nearly retired or already retired with large numbers of that huge consumer group retiring every month. As people near retirement they tend to spend less as they try to save more, reduce debt and prepare for retirement. Then, as they do retire, incomes tend to be lower for the majority so consumption remains more tepid than during their peak earning years. This generational transition is also causing problems for retailers.
The millennial generation has a bit of an anchor dragging behind it with student loans piling up burdening them with debt that earlier generations did not have to deal with in such proportion. This is causing a delay in household formations and spending that would normally accompany this age group. This delay is also causing some problems for retail stores.
Macy's (NYSE:M) Report
This week we have been asked repeatedly whether investors should start investing in retail or not, as they have noticed that retailers like Macy's have been imploding lately and as a result have been bringing down the whole industry with them.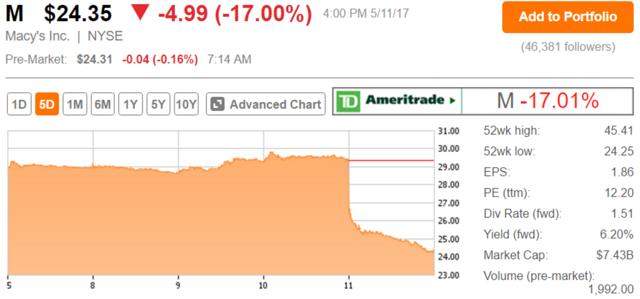 As you can see from the Seeking Alpha chart of Macy's above, the stock is now yielding 6.2%. But I say what good is such a dividend if the stock itself falls almost 50%, which already has? That would amount to gambling that the worst is over and that the company may have finally found a business model that will totally counter the effects of online retail growth. Then if we go to our Friedrich Datafile on Macy's we see this: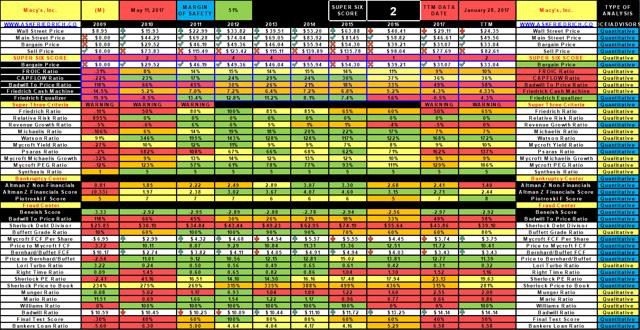 You will notice that Macy's has indeed broken below its bargain price, but we also get a warning from Friedrich as a major problem has shown up which is that Macy's Badwill to Price Ratio has almost doubled in the last two years and at 58% is considered a major problem by our algorithm.
Badwill can be defined as:
BADWILL = A way in which Friedrich catches potential manipulators. When companies do a lot of Mergers and Acquisitions they tend to book a lot of Goodwill. Goodwill is the excess amount paid that cannot be assigned to the assets of the purchased company based upon market valuations. BADWILL = (Goodwill + Intangible Assets)/ Diluted Shares Outstanding. When the Badwill to Price is 33% or greater than the stocks market price, then that is a bad thing and the company should be avoided, in our opinion.
Review of other Retail Companies
Since consumer spending is 70% of the economy, it is important to figure out if the problems at Macy's are company specific or if the entire retail industry is suffering. In our opinion Retail is a rabbit hole that is hidden under quicksand. The implosion of the industry started with Sears and Kmart (NASDAQ:SHLD) and then hit Macy's and JC Penney (NYSE:JCP).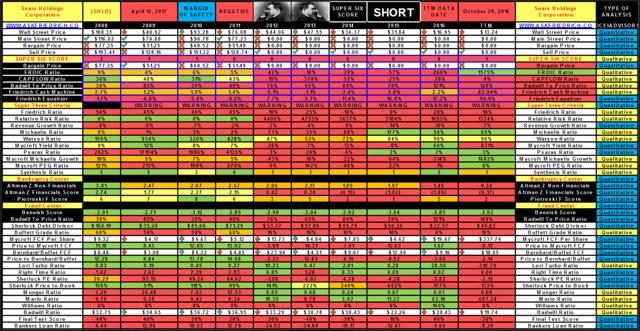 If you want to make money from Retail we would concentrate on companies that Amazon (NASDAQ:AMZN) and Costco (NASDAQ:COST) cannot compete with which we will get to in a moment. To further explain, I went to Barnes and Noble (NYSE:BKS) last weekend and was looking for a few books to buy. I could not find exactly what I was looking for and those that I did find were priced at twice what Amazon charges. Retailers cannot compete against Amazon or Costco as each sells everything at cost or below cost and Amazon now even provides free shipping for any order over $25. So not only did I buy 5 books from Amazon, I got free shipping and they were from a very unique translator that I love. So, I got everything I wanted at half the price of what I would have paid at Barnes & Noble.
Amazon is being run to only generate revenue growth and not for profits. Jeff Bezos, its CEO, uses Wall Street money (in the form of debt) to build more and more distribution centers and then personally sells a million shares a year. Since 2005 the selling by insiders has been staggering compared to buying. These are, of course, primarily stock options transaction considered part of compensation, but does any CEO or group of company executives justify this level of compensation ($6 billion)? The vast majority of the selling (by number of shares and value) was done by Mr. Bezos. To verify the numbers you make check insider-monitor.com from which we lifted this quote regarding insider buys and sales at…