Pinterest is one of the most popular social networks in the world, with 175 million monthly active users and legions of diehard fans pinning their favorite outfits, recipes, housewares, and more.
But most people are probably missing out on hidden features and cool tricks that enhance the Pinterest experience, or simply make life easier.
We asked Pinterest for help discovering some of the best tips and tricks of the platform. So whether you're a first-time user or daily pinner, here's how to get the most out of Pinterest.
1. Use the app's visual search feature to find and even buy specific items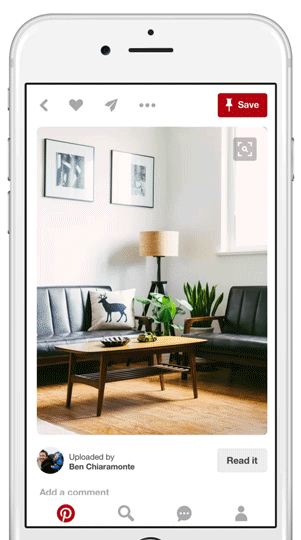 Share
Embed
Link
By tapping the magnifying glass in the corner of a pin, you can look up specific items in the image. Pinterest will then show you similar pieces and items that you can actually purchase. If you see something you like, you can add it to your cart from a third-party retailer without ever leaving the app.
2. Move pins between boards in batches
Syndication of this GIF was restricted by the content owner.
If the situation arises where you need to transfer several pins to a new board, Pinterest offers an easy tool to make it happen. By clicking on one of your boards on the desktop version, you'll see a select tool at the top of the page. That will let you select multiple pins and move them, copy them, or delete them altogether.
3. Use the Pinterest browser extension to save links to your boards
Syndication of this GIF was restricted by the content owner.
Pinterest offers a browser extension to help you save links you find on the web to the Pinterest app. Once it's enabled, you'll see a red "Save" button when you hover over images on the web. The extension is available for Chrome, Safari, and Firefox.
4. Use visual search on the web
Syndication of this GIF was restricted by the content owner.
The browser extension also lets you do visual searches on any web page. By clicking the spyglass on a photo, Pinterest will show you similar items, some of which you can click to buy.
5. Long press the iOS app to access shortcuts