The technology industry is captivated by titans fighting over voice-activated home speakers. The war among Amazon, Google and Apple is technology's newest frontier, but it's also pretty small potatoes. People might spend a few billion dollars this year on computer-assisted speakers such as the Amazon Echo, based on forecasts from research firm Parks Associates.
The big-ticket fight on the tech frontier is happening not in happy homes bathed in WiFi but in the cold, warehouse-sized buildings that house rows upon rows of computer equipment that function as the invisible locomotive of the internet. About $1 trillion will be spent in 2017 on this and other gear typically purchased by corporations and governments. (Yes, you read that stunning figure correctly.)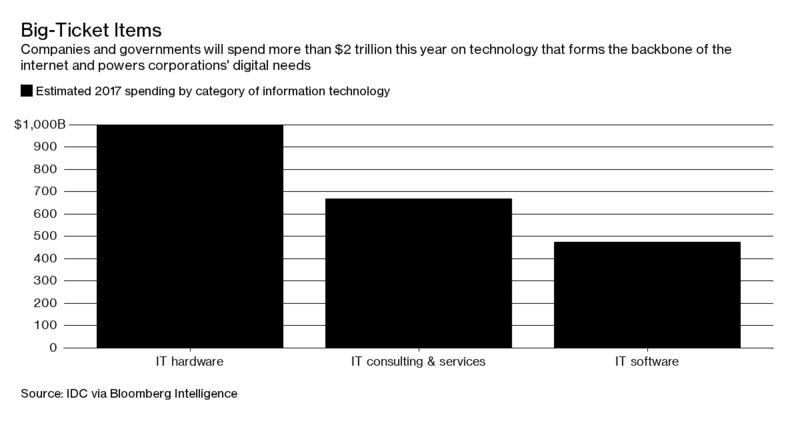 The world couldn't function without this hardware, including refrigerator-sized racks of computer servers that are the matched set for each interaction of a digital device. Every time someone asks Amazon Echo to play music or Walmart crunches numbers on its inventory, computer servers somewhere are firing on for those tasks.
Most people wouldn't know a computer server if they saw one. But with the notable exception of transportation, few corners of technology are undergoing more disruptive change with so much money at stake. Sales of servers and other equipment for the world's digital backbone was a stodgy affair for decades, controlled by stodgy companies such as IBM, Dell and the company now called Hewlett Packard Enterprise. It's not stodgy anymore.
Amazon, Google and Facebook have helped lead a revolution in how the world's digital backbone operates. The tech titans still buy equipment by the truckload to stuff into their chilly warehouse-sized computer centers, but they're shunning the expensive and specialized gear sold by the likes…