Gennette aims to stabilize store sales while e-commerce grows
Chain wants to add value by adding Macy's-exclusive items
Macy's Inc. Chief Executive Officer Jeff Gennette is optimistic about the future of the largest department-store chain, even if it doesn't look much like the store R.H. Macy imagined.
Gennette, 55, wants to build Macy's into a fashion destination where shoppers looking for exclusive products can buy online or on their phones as easily as in a store. In an interview from his office on the 13th floor above the department store's iconic Herald Square flagship location, he mapped out how Macy's will capture one hypothetical customer's heart.
"We need to be sure that when she walks into a Macy's — be it on the web or on a mobile device or when she walks into our stores — she encounters a brand she loves, that gets her, that she wants to tell her friends about," Gennette said.
He has his work cut out for him. The chain is reeling from tumbling sales and sluggish shopping-mall traffic. Macy's posted a 4.6 percent decline in comparable sales last quarter — deeper than the the 3.5 percent drop predicted by analysts. Meanwhile, Chief Financial Officer Karen Hoguet warned Tuesday that second-quarter gross margins have contracted a percentage point from a year earlier, sending the shares to their biggest dive in almost a month. They've now lost 39 percent of their value this year.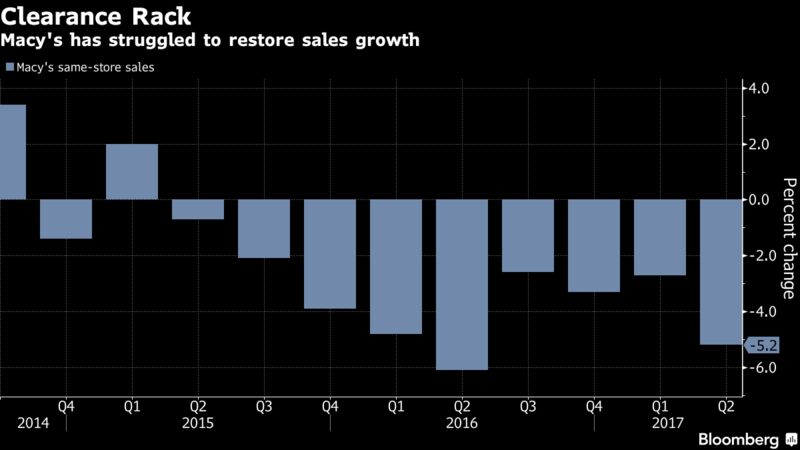 Despite the challenges, the company is maintaining its earnings forecast, vowing to reach its goals by slashing costs and revamping its marketing strategy.
Beyond 2017
As for…