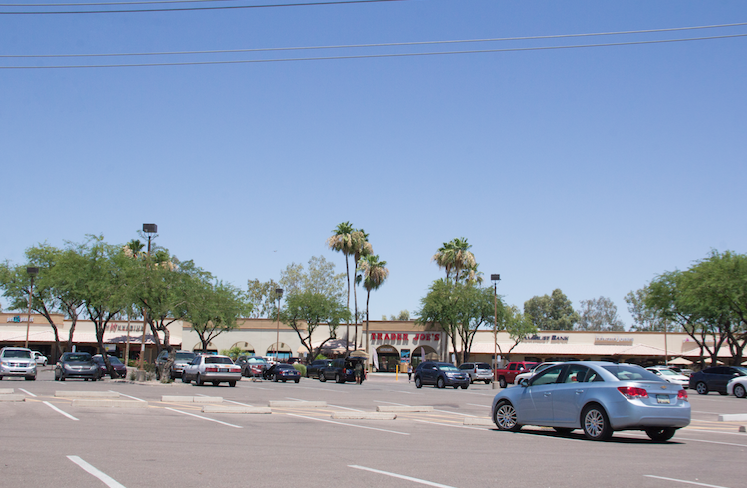 While conventional wisdom says consumers are abandoning brick and mortar stores in droves in favor of online retailers like Amazon, the retail sectors covering Ahwatukee and the East Valley are showing promising signs of growth.
The Ahwatukee/Tempe submarket has a retail vacancy rate of 6.88 percent, which is below the metro Phoenix average of 8.8 percent.
That low number is driven in part by Tempe, which is arguably the hottest commercial real estate submarket across all sectors in Arizona, said CBRE Retail Services First Vice President Todd Folger.
However, Ahwatukee specifically is considered a "safe" submarket due to its great residential base, high incomes and proximity to daytime workers, he added.
Overall, asking lease rates in the submarket averaged $17.51 per square foot through the first quarter of this year, which is slightly higher than the metropolitan Phoenix average of $17.16, according to CBRE's statistics.
Tempe/Ahwatukee also posted net absorption of 37,929 square feet during that same time period with an additional 15,321 under construction.
Net absorption is a critical statistic that represents the total new occupied square footage in a given sector, minus square footage that is no longer occupied by tenants, explained Sanford Burstyn, vice president of investments and director in the National Retail Group for Marcus & Millichap.
Ahwatukee and other East Valley areas are also benefiting from adaptive reuse and infill projects that see vacant retail spaces being taken over by non-traditional uses. A recent example is Mountainside Fitness' recent purchase of the former Sports Authority space in Foothills Park Place Shopping Center.
Some of the recent retail success in the East Valley at large is driven by the development of grocery-anchored centers, including new locations for Sprouts and Fry's that have opened across the region over the past year. Sprouts opened its 250th store in Mesa last September.
"These centers are being built where the houses are being built," said Folger. "It's the old adage that retail follows rooftops."
The East Valley is also being bolstered by the smaller centers that are becoming increasingly popular across the area. They include some mix of urgent care or other medical services along with popular eateries like Chipotle and Starbucks.
These spots can attract rents in the $20 to $40 per square foot annually range, which is well above the current market average of roughly $14 to $15, said Burstyn.
Additionally, developers are also taking outdated large restaurant spaces located in premier hard-corner locations, renovating them and breaking them into smaller units to be occupied by multiple users.
The Mesa/Chandler/Gilbert submarket posted net absorption numbers of 114,558 square feet through the first quarter of 2017, according to market research released by commercial real estate company CBRE. There was an additional 346,335 square feet of…