Tencent-backed Meituan is ramping up a rival online service
President Chen takes on Alibaba and Baidu-backed Ctrip
After slugging it out in ride-hailing, bike rentals and food delivery, the battle between China's technology giants is spilling over into the travel sector.
Meituan Dianping, which has funding from Tencent Holdings Ltd., is getting ready to spend hundreds of millions of dollars over three to five years to unseat leader Ctrip.com International Ltd., backed by Baidu Inc. Also targeting the space is e-commerce juggernaut Alibaba Group Holding Ltd.
Online travel is the latest front in a running war between China's largest internet corporations — Baidu, Alibaba and Tencent — that's spilling across the breadth of the country's on-demand services economy. Meituan Travel wants to sell you a flight to Beijing, museum admission, a dinner booking and finally a room to crash in — all within the app — something a specialized service like Ctrip can't match.
Chen Liang is tasked with leading that charge. The Meituan Travel President is declaring open season on Alibaba's Fliggy (formerly Flying Pig) and Ctrip. He wants to build China's largest hotel service by the middle of 2018, banking on 240 million users who already make dining reservations, schedule massages and hunt for retail discounts on its Groupon-like platform. Alibaba's 500 million-plus customers, in contrast, mostly buy from its online bazaars, he argued.
"Meituan Travel really nicely complements our business," Chen said in an interview. For Alibaba, "the gap they have to overcome is much larger than what we have to do, because we started out as a lifestyle platform."
Ctrip is expanding into lower tier cities with customers seeking a "superior quality of service," it said in a statement. Alibaba wasn't immediately able to comment.
Meituan is one of Tencent's standard-bearers in a war with Alibaba and Baidu. It's a battle waged via multi-billion dollar investment deals and proxies such as the Alibaba-driven food service Ele.me, or Mobike and Ofo in cycle rentals. At stake is control over the world's largest population of middle-class spenders, tourists and internet users. Alibaba too has said it wants Fliggy to become the leading travel service for millennials.
Both are relative newcomers to a battlefield that, unlike bike rentals, already hosts a dominant player. Ctrip, which counts Priceline Group Inc. as an investor, cemented its position by merging with Qunar in 2016, ending a costly discounting war. Before that, it bought Elong Inc., a travel agent that counted Tencent among its backers.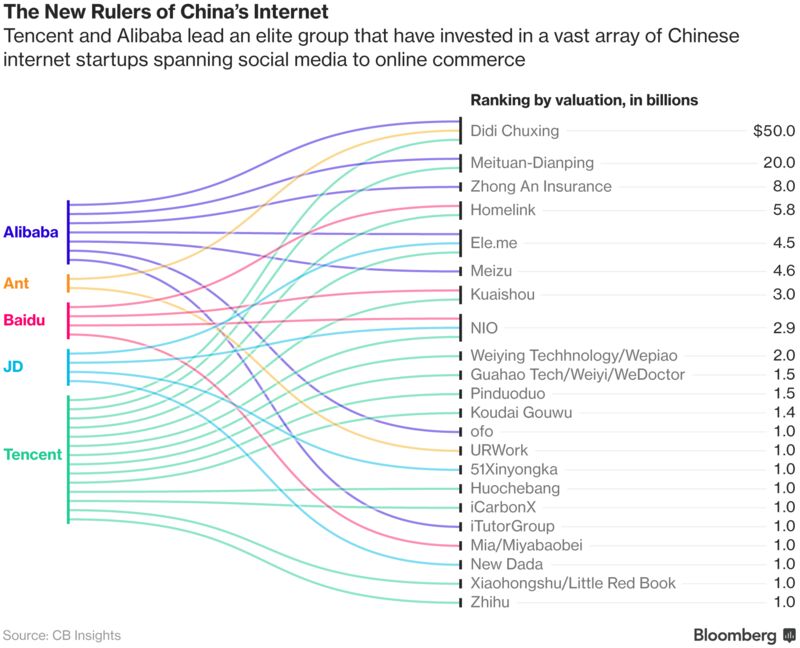 Meituan started…