Summary
The death of retail is overplayed. I list five retail REITs that I believe have a reason to exist.
Many thought that the death of retail was going to occur with the tech boom in 2000, Acadia Realty's CEO reminds us how this played out.
Whether you are looking for margin of safety or high dividend yield, all five of these REITs would make an excellent addition to any portfolio.
Investment Thesis
Retail Real Estate Investment Trusts (REIT) have been beaten down over the last several months. The threat? Increasing online sales and stiff competition from other stores with physical locations. While the success of Internet sales cannot be denied, it is my belief that there will always need to be physical locations. Because of this belief, the bigger question for investors should be whether or not a company has a real estate portfolio that will stand the test of time and is able to adapt to changing consumer preferences.
The goal of this article is to identify several REIT's that I believe will fit this mold. Depressed prices for the stocks offers a valuable entry point for investors to capitalize on. The stocks that I am most interested in include: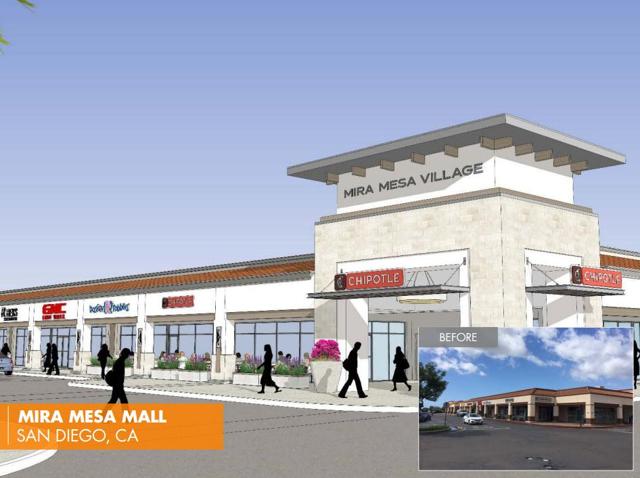 Tanger Factory Outlet Centers, Inc. – SKT outlets have approximately 15.1 million square feet spanning over 22 states (primarily on the East Coast) and Canada. Within these outlets, there are over 3100 stores leased to over 500 different brand-name companies. SKT has seen its price drop by over 36% over the last 52 weeks.
Kite Realty Inc. – KRG focuses its locations in the southern and eastern United States. With 120 locations located in areas with average household incomes north of $85,000, KRG has positioned itself as a landlord of upscale retail locations and an expert in redeveloping existing properties. KRG has seen its price drop by 36% over the last 52 weeks.
Brixmor Property Group Inc. – BRX focuses on shopping locations anchored by grocery stores (over 70% of shopping centers are anchored by grocery stores). BRX properties are primarily located in the southern and eastern United States. BRX has seen its price drop by over 33% over the last 52 weeks.
Acadia Realty Trust Inc. – AKR focuses on "shopping centers and mixed-use properties with retail components." AKR focuses 85% of its core portfolios gross value on five key gateway cities including: New York, Chicago, San Francisco, Washington DC, and Boston. AKR has seen its price drop by approximately 24% over the last 52 weeks.
Kimco Realty Inc. – KIM is one of the most diverse publicly traded open-air retail REIT's in the United States. KIM has interests in 517 shopping centers comprising of 84 million square feet. These operations are located across 34 states, Puerto Rico, and Canada. KIM has seen its price drop by nearly 40% over the last 52 weeks.
Food For Thought
I found AKR's letter to the shareholders extremely interesting given the current circumstances of the retail industry. The CEO, Kenneth Bernstein, compares the current events to similar events that occurred in 1999-2001 when there was a significant increase in retailer bankruptcies (including Ames, Caldor, Phar-Mor, and the Grand Union). In addition to retailer bankruptcies, the threat of e-commerce began to take shape, making it all the scarier to own retail real estate. In the end, it turned out to be a great time to invest as AKR shareholders experienced an 822% return since 1999.
Bernstein attributes much of the volatility in today's market to oversimplified headlines and cyclical challenges that retailers face. With all the noise being generated, it is easy to see why investors are overreacting. It is for this reason, that I believe it is a perfect buying opportunity for long-term investors.
Discount Comparison
In order to put these REIT's into perspective, I have created the following chart to better capture some of the key metrics of these investments.

I personally feel that SKT, KIM, BRX, KRG, and AKR stand as glaring examples of undervalued Retail REIT's. With a significant margin of safety already priced in it is a great opportunity to pick up shares.
Tanger Factory Outlets
Given the deteriorating retail conditions in the United States and across the world, SKT's operating results have been quite phenomenal. I attribute much of SKT's success to the quality of the tenants that they lease to.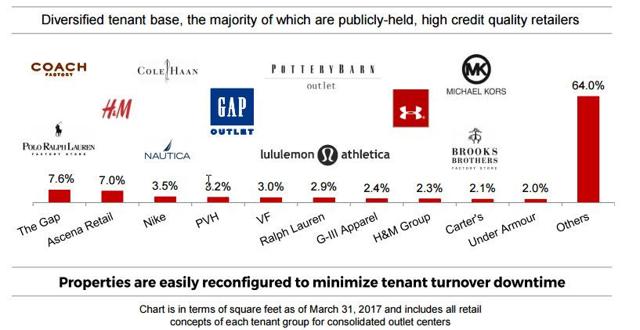 Source: SKT – Q1 Investor Presentation
While several of these tenants have struggled in recent years, it is important to note that SKT has positioned its outlet centers in high-traffic and high-income areas that make these stores exceptionally profitable when compared with other locations. How do I know that their locations are desirable?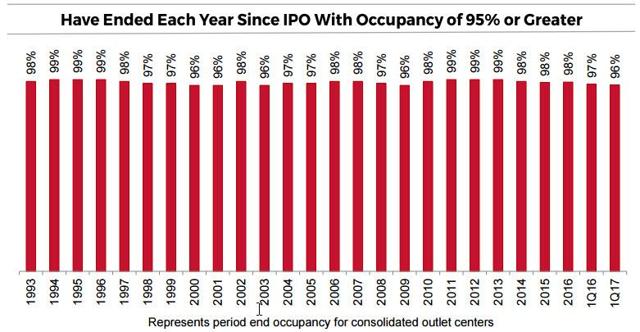 Source: SKT – Q1 Investor Presentation
Just look at SKT's occupancy since their IPO almost 25 years ago. Regardless of economic climate and shifts in consumer preferences, SKT has managed to maintain occupancy levels above 95% for their entire post-IPO history. It is important to remember that results like this coming from a retail REIT are very uncommon especially given the challenging economic climate they have been operating in. Although 2015 to 2016 presented some challenges, SKT managed to post solid operating numbers.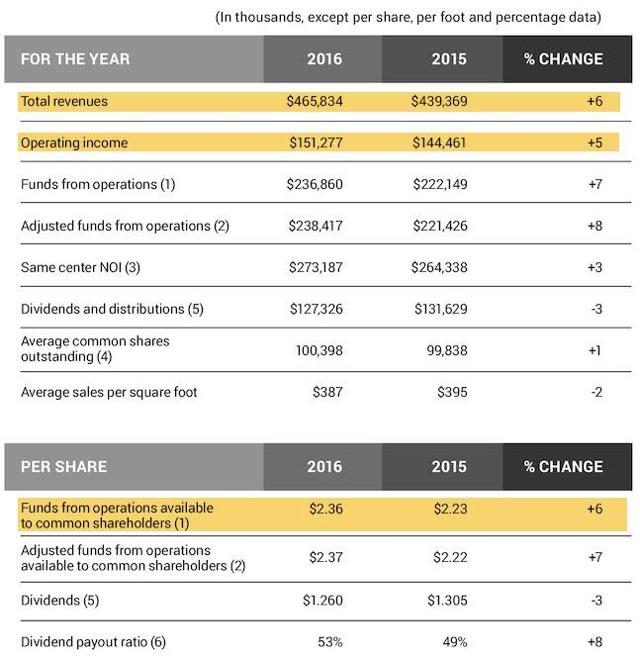 Source: Tanger Factory Outlets -…