Summary
The record success of Amazon's Prime Day on 7/11 is another testament to the digital disruption of retail.
But Amazon is not the only company disrupting its competition and the markets they target.
While Amazon has certainly been leading the way in the disruption of retail, there are many other companies disrupting their respective market segments.
Here are three other disruptive plays in online commerce to consider.
Amazon: The Disrupter in Retail
This year's Amazon (AMZN) Prime Day on July 11th set a company sales record, beating out both Black Friday and Cyber Monday. In fact, Prime Day sales were higher than both those shopping days combined in 2016. Prime Day sales, which kicked off 30 hours of deals, were up 60% over last year's results.
There is no disputing that Amazon has been a huge disruptor in the retail space. And as a result, Amazon investors have been rewarded with the stock up almost 34% over the last year.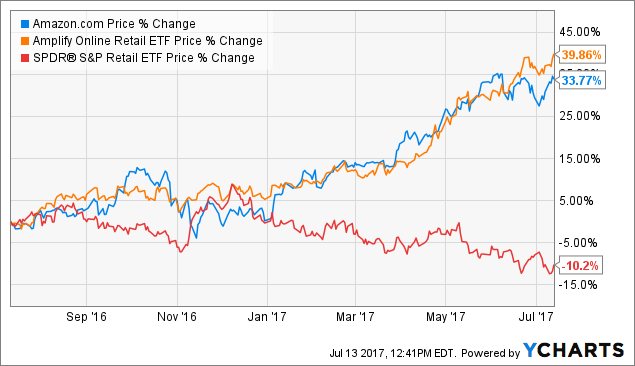 But Amazon shareholders are not the only ones benefiting from the digital disruption of retail. Although non-store sales only comprise 8.5% of total retail sales, it remains the fastest growing segment of retail, growing at a CAGR of nearly 20% since 1999.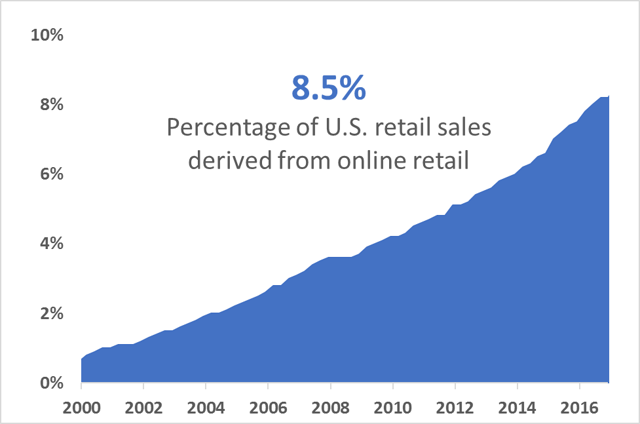 3 More Online Retail Disruptors
So who are some of the lesser known companies capitalizing on the online commerce revolution? We can look to the EQM Online Index, which is tracked by the Amplify Online Retail ETF (IBUY), for some examples of companies that have been some of the top online retail performers this year.
Three stocks have risen more than 100% YTD: Wayfair (W), Shopify (SHOP), and Carvana (CVNA). One thing these companies all have in common is that they are disruptors in their respective market segments.
1. Wayfair (+115%)
Wayfair has been one of the retail disruptors in the home furnishing space. Whereas the conventional wisdom used to be that shoppers would not buy large items like furniture online, Wayfair's success has proven the naysayers wrong. The company's first quarter results blew past estimates, with revenue surging 29% to $961 million. Even more impressive, the site saw a 46% increase in active customers to 8.9 million, with the percentage of orders from repeat customers growing to 55-60%.
The stock has had its fans, including legendary fund manager Bill Miller and his fellow portfolio manager Samantha McLemore, who left Legg Mason last year to start the Miller Opportunity Trust (LMOPX). Miller and McLemore have been rewarded by stepping into own Wayfair at a time when investors were fearful that Amazon would annihilate its leadership in the space. Those concerns were obviously overblown as demonstrated by the stock's recent performance gains. Furthermore, Wayfair management retains a 40% stake in the company which Miller and McLemore viewed as a bullish sign.
That is not to say that the stock does not have its skeptics. Notable short-seller Andrew Left of Citron Research has been criticizing the stock for the last two years. He says "they will never make money" and that their "free cash flow is an illusion." To date, Left's short position in Wayfair has been very unprofitable. Many analysts view Wayfair as a potential takeover target with a number of potential acquirers, from Bed Bath and Beyond (BBBY) to even Amazon.
Wayfair's successful disruption in…