Summary
In this piece, I figured it would be interesting, since I've been on a retail binge, to look back at Ross Stores.
Unfortunately, shares have not performed terribly well as of late, but the business makes for an interesting prospect for retail fans.
Of course, with quality comes a price, one that some investors may not be willing to pay.
Over two years ago, I looked at a company called Ross Stores (ROST). My general conclusion from that piece was that, compared to a rival like TJX Companies (TJX), the firm was pricey but its superior growth, combined with its low debt, made it an interesting prospect for investors to consider. Since publication, the thesis I made did not, unfortunately, work out. Shares of Ross have fallen 12.9% compared to TJX, which saw its share price tick up 7.6% (which is hardly great in two years). In what follows, I wanted to take another crack at it and give my thoughts on whether investors would be wise to consider buying in or if they may want to stay away.
Ross continues to surprise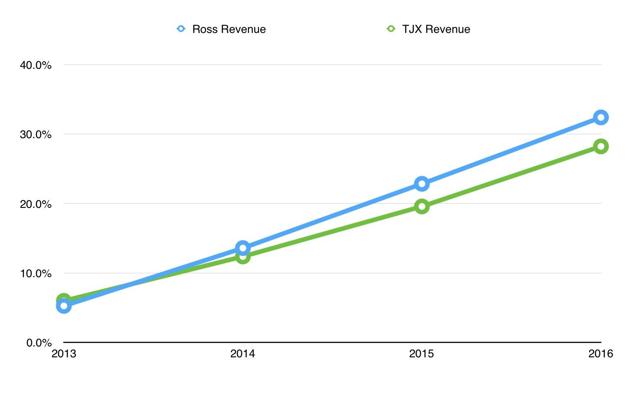 From a growth and profitability perspective, Ross has been a truly impressive company in recent years. If you look at the graph above, for instance, you can see that its revenue has meaningfully outpaced rival TJX. Sales growth has averaged 7.2% per annum over the past five fiscal years, compared to TJX's 6.4%. This can be chalked up, at least in part, to positive comparable store sales growth on a consistent basis, with the figure ranging between 3% in 2013 and 2014, to 6% in 2012 (though its store count increase was the true driving factor dividing them since TJX also had impressive comparable store sales growth). In 2016, as shown in the table below, comparable store sales growth was a nice 4%.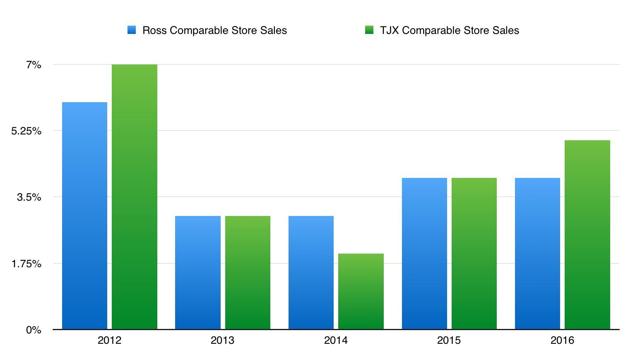 *Created by Author
Beyond comparable store sales, however, the company has continued to grow its physical footprint. If you look at the graph below, for instance, you can see the number of locations in operation at the end of each fiscal year. Between 2012 and 2016, the company's store count grew from 1,199 units to 1,533. This has continued this year. Between June and July of 2017, Ross' store count increased by 28 units and now stands, if my math is correct, at 1,589 units. If all goes according to plan this year, the company will have added 90 stores by the end of this year, most of which will be in the form of its Ross Dress for Less, which already accounts for around 87.1% of total locations today.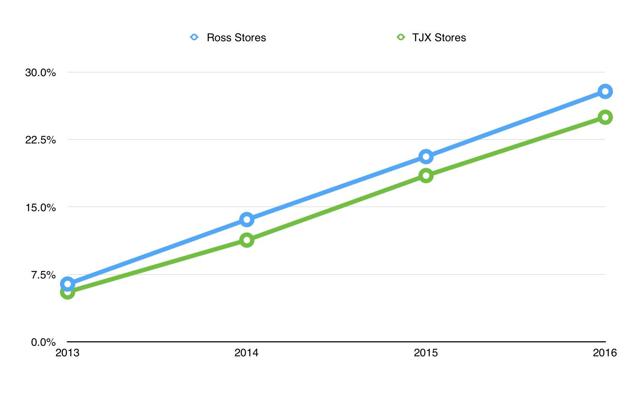 *Created by Author. Shows Aggregate Percent Increase Over Time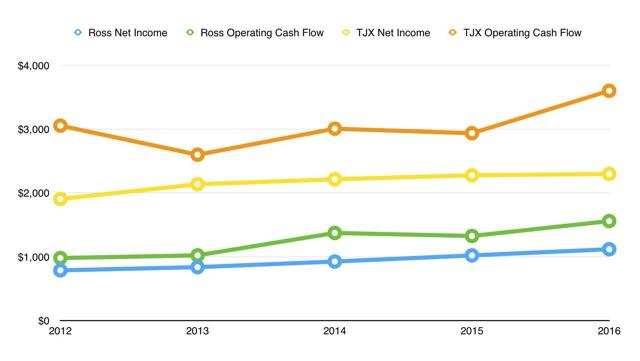 *Created by Author
Of course, sales growth is only one part of the equation. We also need to look at profits and operating cash flow. In the graph above, you can see the net income and operating cash flow of Ross compared to TJX…