This summer's steep selloff in shares of Ulta Beauty Inc. shows that investors still don't understand the beauty-supply chain.
An error has occurred
You have 1 free Businessweek article left.
Register for more.
Already a subscriber? Link your Bloomberg Terminal account or your Businessweek subscription account to access all articles.
It was just last month that Ulta closed at an all-time high of $313.73 a share, but it didn't stay up there for long. The stock tumbled 18 percent in the short time since then, erasing nearly all of its gains for the year. Investors could have avoided this roller-coaster ride.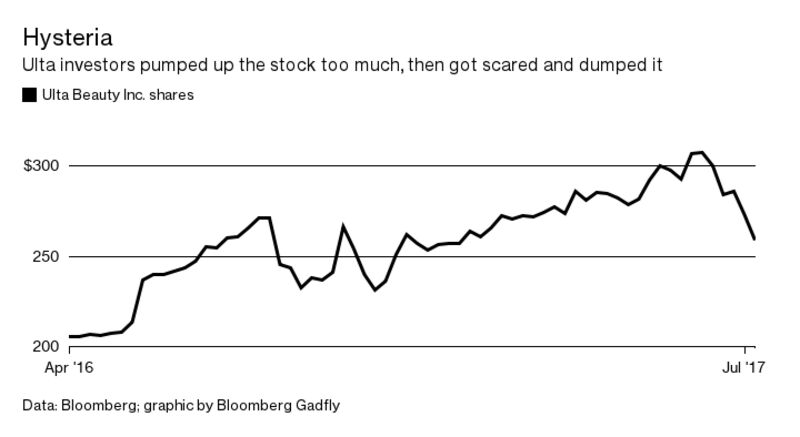 Ulta may be one of the fastest-growing publicly traded retailers in America, but it's still a retailer. At its high, the stock was priced at 35 times estimated earnings for the future 12-month period, which is simply too rich a valuation in this highly competitive industry. Then all of the sudden, the dread of getting squashed by Amazon.com Inc. — which has dragged down a swath of stocks lately with its Whole Foods Market Inc. takeover announcement and the success of Prime Day — came over Ulta shareholders, too.
For now, that concern is mostly misplaced, which I'll explain later. But it at least had the effect of returning Ulta to a more reasonable valuation. That means shareholders shouldn't expect a big recovery until earnings start to catch up. The company still reaps less than 10 cents in net income on every dollar of sales. And as growth inevitably slows, profitability will become increasingly important to justify the stock price.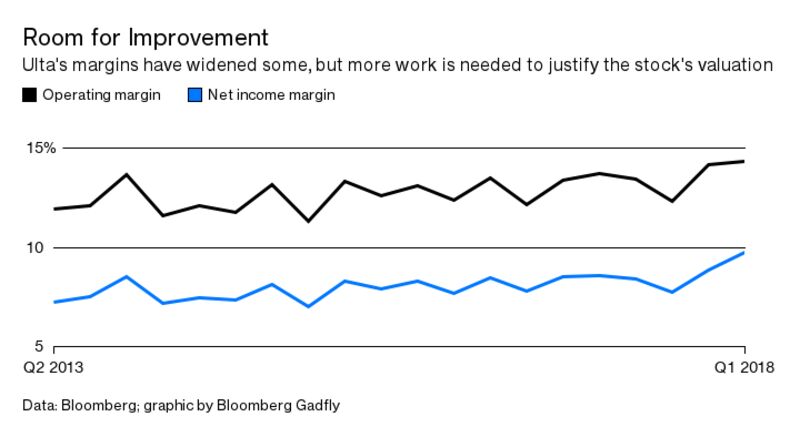 Even though Ulta…