Summary
Last month's in-store spending grew at best rate in seven months.
Consumers' willingness to spend bodes well for corporate earnings growth.
Stronger employment and better wages are the key driver of higher retail consumption.
Online shopping continues to capture increasing share of consumer dollars.
Say what you want about a weakening economy and slowing corporate earnings, but don't deny that the American consumer is (still) feeling pretty good about the future… good enough to continue spending their hard-earned cash at the nation's stores and restaurants. In that personal consumption drives 2/3 of the U.S. economy, last month's retail spending figures bode well for stocks.
For July, overall retail spending was up 0.6% (month-to-month) overall, and higher by 0.5% when taking auto sales out of the equation. Analysts were only calling for 0.3% month-to-month growth, with or without car sales factored in. On an annualized basis, overall spending at stores and restaurants – but not on cars – grew 3.1%, was up 3.3% on non-food retail, and was up 3.6% counting store spending, automobiles and restaurant spending.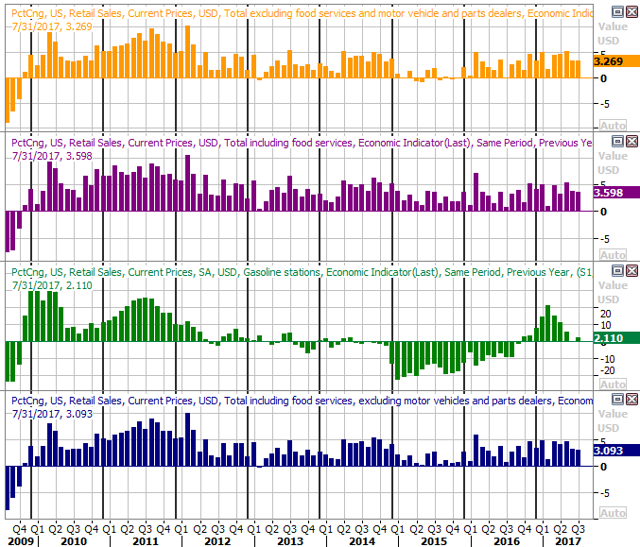 And bear in mind that all stratifications of that data were up against some very tough comparisons; retail consumption had already gotten pretty hot by the middle of last year.
Also bear in mind that this spending played out against a backdrop of incredible indecision in (and frustration with) Washington DC's political landscape, as well as in the shadow of a political standoff between North Korea and the United States – both were serious concerns well before July came…