Struggle recruiting millennials risks worsening U.S. shortage
Autonomous truck technology threatens to shake up industry
It's been 30 years since Burt Reynolds starred in "Smokey and the Bandit" and made driving a rig on the open highway seem like a cool way to make a living. That same year, only "Star Wars" sold more tickets.
These days, "Star Wars" still fills theaters but trucking no longer captures the imagination of movie goers or, it turns out, the young and unemployed. Veteran drivers are leaving the profession, and young people entering the workforce are put off by long hours away from home and the profession's low-brow image. The result is a U.S. trucking industry with high turnover and a dwindling number of new recruits.
"The question is where we'll be in five or 10 years," said Steve Viscelli, a sociologist at the University of Pennsylvania and former driver. "If e-commerce goes up a lot and the introduction of autonomous vehicles is slow and the industry does not shift to millennials, we could see actual shortages 10 years out."
Most trucking companies have been able to make do so far, but as older truckers retire and an online-buying boom leads to surging deliveries, the fear is a driver shortage will spur delays and lost revenue. Offering generous signing bonuses, new technology and cozier cabs hasn't done enough to overcome the aversion to lengthy times spent alone on the road. The industry is running out of time, with the baby-boomer demographic nearing retirement and millennials continuing to skirt the sector.
Not Glamorous
The annualized driver turnover rate at large truckload fleets was 74 percent in the first quarter and the industry was short about 48,000 drivers at the end of 2015. That shortage is expected to balloon to almost 175,000 by 2024, according to the American Trucking Associations.
"Every truckload carrier is always scrambling to fill their trucks," Stephen Burks, an economist at the University of Minnesota Morris who used to be a driver, said in an interview.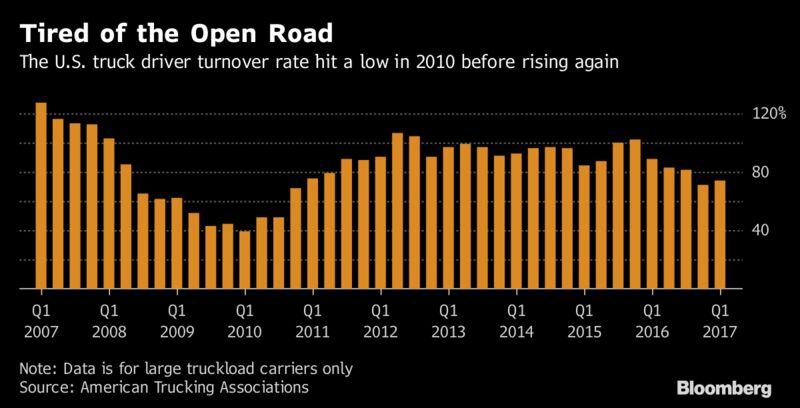 Brick Kepler, a recruiter from the Professional Drivers Academy in Milton, Pennsylvania, often gets the cold shoulder when visiting high schools in search of potential workers. He said students have little interest in the trucking industry, with many pressured to pursue college rather than a blue-collar job. Young workers also know they might train for a career only to be replaced by driverless semis in a decade.
"I don't think people look at the trucking industry as the easy, glamorous, high-paying job they want," he said. "It doesn't appeal to the younger generation."
Pay, Bonuses

To boost recruitment and keep drivers invested in…