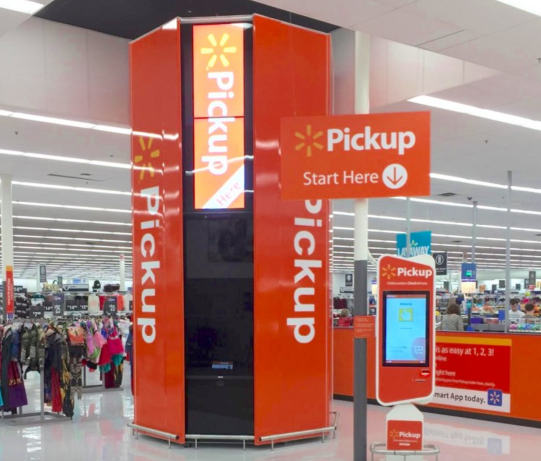 When Walmart rolled out its massive vending machine style in-store pickup technology last year in a limited pilot it was unclear whether the investment was a gimmick or a vital piece of the retailer's in-store experience. It appears to be the latter.
Walmart announced that it is ramping up the rollout of its gigantic fulfillment towers over the next several months. Currently just 20 Walmart locations feature the fulfillment towers, but another 80 are expected to be installed throughout the chain over the next few months, according to Business Insider.
The towers are a major step forward in the in-store pick-up experience, which has become a vital capability for Walmart in its ongoing battle with Amazon for consumers' hearts, minds and wallets. Shoppers have become accustomed to the two-day, next-day and in some cases same-day fulfillment capabilities of Amazon and are making purchase decisions based on retailers' ability to match the online giant's fulfillment prowess.
Walmart, like many omnichannel retailers with a sprawling physical presence, is looking for ways to leverage its massive physical network to fulfill online orders at speed. One way to get orders into shoppers' hands as quickly as possible, while significantly lowering fulfillment costs, is to offer in-store pick-up on online orders.
While 35% of retailers either currently offer or will implement click-and-collect capabilities in the next 12 months, according to RIS News' "14th Annual Store Systems Study," few of them have truly optimized the experience. Many still relegate in-store pick-up to an afterthought,…