As the fourth quarter heats up, so does your Facebook ad competition. To be a real Facebook ad superstar, you need to have an end goal, an idea of your target audience and a good campaign objective. You also need to have competitive bidding and strategy know-how to outsmart your biggest competition. But before we can get into how to beat your competitors, you need to understand who your competitors are, who they have been targeting on Facebook and what their ads are offering.
Analyzing Your Facebook Competition's Data
As we learned in our How to Spy on Facebook Competitors post, you have valuable insight into their Facebook campaigns right in your newsfeed.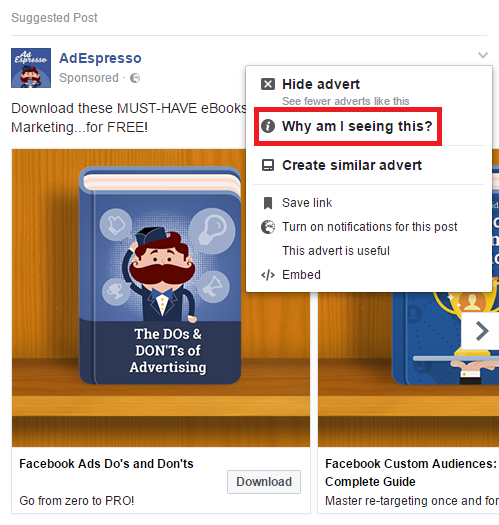 By clicking 'Why am I seeing this?' in any of the ads you see in your newsfeed, you will have access to tons of data that can help you.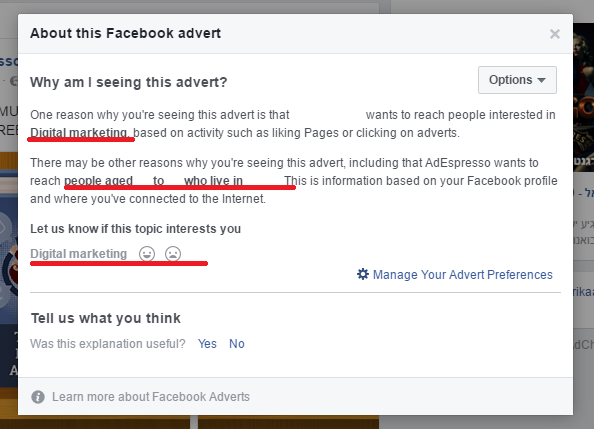 Analyzing Your Facebook Competition's Ad Strategies
Next, you will want to look at the ads your competitors are running from a creative standpoint. Two of the key things you want to look for are substance and structure. These are areas where a lot of online stores are lacking, and therefore where you can really outshine when creating your Facebook campaigns.
By substance I mean relevancy and added value. A good Facebook ad needs to add value to your potential shopper whether it is through blog content, a time-sensitive sale, or great video content that doesn't just shout out a product but shows the value of what that product brings. We saw a great example of this in last week's post, Hot eCommerce Marketing Trend: Facebook Messenger Ads, which already has over 4 million views.
Here it is again in case you missed it:
By structure I mean basic ad structure: Are the headlines on point, does the description match what the user expects when they click the URL and does the CTA make you want to find out more? You should be able to tell from these components what pain point their product solves, how it solves it and what to do next.
Now that you have a better view of the Facebook competition landscape, let's jump into how you can kick some Facebook ad butt with 4 ways to beat your competitors at Facebook ads.
1. Use Facebook Budget and Bids Strategically
The first point we will look at is a little more technical: Facebook bids and budgets. If you're a newer advertiser, this can get a little confusing. The trick is to look at Facebook bidding as a giant advertising auction, if you will. Using the right bid for your objective can make a big difference. Your main bidding strategies include:
CPM Facebook Bidding, which allows for bidding on the amount of impressions your ad gets within your target audience.
CPC Facebook Bidding, where you pay and bid on the amount of clicks you get.
Facebook Conversions Bidding, where you are bidding on reaching people who are more likely to fulfill the ad objective you have set.
Optimized for Daily Reach, which will show your ad to as many people in your target audience as possible.
Bonus Content: Facebook Ad Bidding 101
Say you are one of three fitness product stores bidding for Facebook ad reach. If you all have the same target audience, are in the same niche, have ads with the same good substance or relevance, then the bid will be the deciding factor. As you can see, whichever bidding strategy you are using, substance and relevance play a big role in winning bids.
The pro tip in making bids and Facebook budgets work in your favor and essentially allowing you to bid out the competition, is by choosing manual over automatic bidding.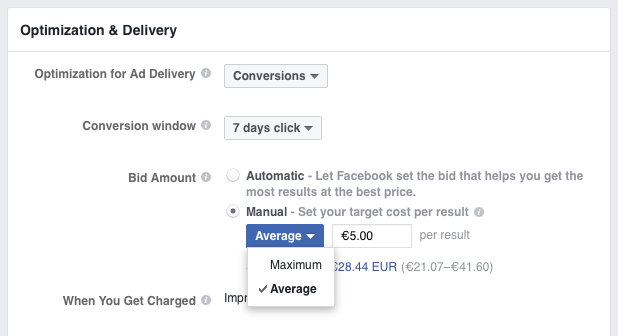 When you choose 'Average' manual bid, you are letting Facebook know the average amount you're willing to spend per conversion. This will ensure that Facebook…