Chinese consumers are optimistic this year.
In fact, consumer confidence in China reached its highest level in more than 20 years in the second quarter. That's good news for plenty of people.
One of them is Kevin Carter, the founder of 2017's best-performing emerging-markets exchange-traded fund. What's his take on the rise of the consumer in developing markets such as China? "I believe with strong conviction that it's the greatest growth story of our lifetimes," says Carter, 47.
"The consumer story is the whole story," he says. Start with the observation that 80 percent of the world's people are in emerging markets, then add that 90 percent of the planet's young people—age 30 and under—are in those countries. "Smartphones are getting cheaper, and more people are getting the internet," Carter says. So, of course, those consumers are increasingly shopping online.
The $311 million Emerging Markets Internet & Ecommerce ETF, whose ticker is EMQQ, gained 62 percent this year through Oct. 4, making it the No. 1 emerging-markets ETF, excluding leveraged funds, according to data compiled by Bloomberg.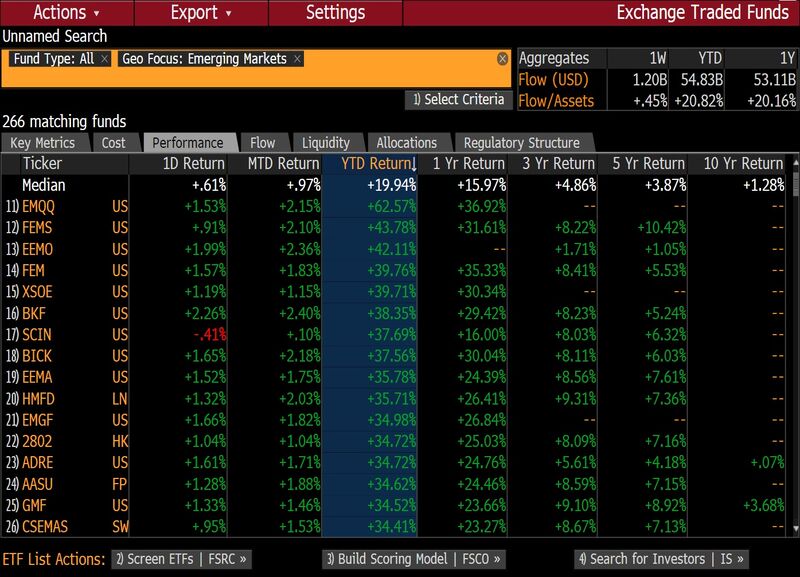 How did EMQQ rack up those returns? In a nutshell, the ETF invests in every publicly traded company in the world whose main business is internet- or e-commerce-related in emerging markets, Carter says. A couple of other constraints: Market cap must be more than $300 million, and stocks need to trade more than $1 million of volume a day. "That's how the companies are selected. There's no judgment—no 'We like this one, we don't like that one,' " he says. "It's a rules-based index, and every company that fits the criteria should get included." As of September the index comprised 43 companies.
What are they? The ETF's biggest position was a 9.3 percent holding in Alibaba Group Holding Ltd., China's largest e-commerce company. Carter says Alibaba's first-quarter earnings report in August was a big deal. "They reported 56 percent revenue growth," he says. "That's staggering for any company—let alone one of the biggest in the world."
Also among the ETF's top holdings was Alibaba rival JD.com Inc. "If you wanted to find a business in China that looks the most like Amazon, it's actually JD," he says. The Beijing-based online retailer is the leading developer of drone-based delivery, according to Carter. "They will almost certainly become the largest commercial user of drones," he says.
Eric Balchunas, an ETF analyst at Bloomberg Intelligence, notes that EMQQ gives an investor a lot of exposure to tech—and only about a 15 percent overlap with an ETF that tracks a broad emerging-markets index. "You're definitely getting original exposure, but is there anything else you're exposed to?" he asks, pointing out that 65 percent of the country allocation is to China. "You'd better be happy with China if you want to buy this."
Balchunas has a theory about thematic ETFs. "The new active equity manager, in many ways, is a thematic ETF," he says. "People seem to be willing to bet on higher-risk/reward themed ETFs that they can believe the story in. They're essentially making an active bet."
The back story of EMQQ weaves together active and passive in a couple of ways. For one thing, it includes a legendary proponent of indexing: Burton Malkiel.
The story starts with Carter, a graduate of the University of Arizona, interviewing at Robertson Stephens & Co. in San Francisco in 1992. After talking about Pac-10 basketball for 20 minutes, he was offered a job and told to start on Monday. Carter objected, saying…