Summary
BURL has raced higher of late, gaining nearly 40% just since late October.
Valuation does look potentially stretched at nearly 30x the midpoint of FY17 (ending January) guidance.
But growth has been impressive, tax reform will help in FY18, and margin expansion and whitespace remain major opportunities.
BURL isn't quite compelling, but the run likely isn't over yet, and at the least this is not a stock worth shorting.
Admittedly, Burlington Stores (BURL) looks expensive. The stock trades at almost 30x the midpoint of FY17 (ending January) guidance after a huge run: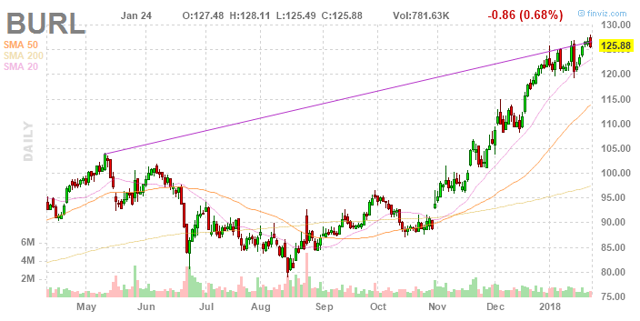 Source: Finviz.com
For any retailer, even in this market, the multiple here looks huge. At the same time, however, looking backwards, even ~30x sounds like it might be cheap. Adjusted EPS rose 40% last year; even backing out a $0.04 benefit from a 53rd week in FY17 and ~$0.20 from accounting changes related to stock-based compensation, the midpoint of guidance suggests a 24% increase this year. If current trends hold, 30x is a reasonable, even attractive, multiple to pay, as future growth should narrow that multiple rather quickly.
The question obviously is whether these trends will hold. There are long-running concerns here, ranging from potential online competition (Amazon.com (AMZN) looms here, as it does seemingly everywhere else) to the availability of supply in the off-price channel. Burlington has shrugged those concerns off so far – the stock has gained 140% just since May 2016 – but as valuation rises and comparisons stiffen, that may change.
I don't think that change is coming quite yet – and I don't think BURL is quite as expensive as it looks. There are long-term growth opportunities from both new stores and margin expansion. Tax reform will provide a boost to FY18 numbers. And the supposed threats to the off-price channel haven't materialized – and seem unlikely to do so any time soon. Given the run, BURL isn't as attractive as I thought it was back in July – but I'm not ready to back off the bull case just yet.
Performance Continues To Impress
There's not a whole lot to say about the Q3 report back in November other than that it was impressive across the board. Comps were 3.1%, against 3.7% the year before; after a concerning Q1 (same-store sales rose just 0.5%), Burlington seems back on track from a top-line standpoint.
Gross margin rose 100 bps, thanks to higher markups and lower markdowns. SG&A leveraged 20 bps despite unsurprising pressure in terms of labor costs. Adjusted EBITDA increased 22%; adjusted EPS gained 34%.
Q4 guidance actually disappointed, with EPS of $2.02-$2.06 against consensus for $2.10; BURL actually fell 4.6% over the three sessions following the release. But weather impacts explained some of the miss, and Burlington's history of beating guidance suggests the $2.10 print likely is in reach.
From a broader standpoint, meanwhile, FY17 full-year guidance continues a strong multi-year trend. EBITDA margins are guided to expand 330 bps over five years. The comp stack over that period should be right about 20%. And adjusted EPS is expected to rise over 400%, from a pro forma $0.83 in FY12 to $4.23-$4.27 in FY17.
Again, assuming that trend holds, BURL should easily grow into the current valuation. On the Q3 conference call, CFO Marc Katz gave directional guidance for FY18, projecting a mid-teen increase in EPS backing out the effects of the 53rd week and the share-based comp benefit. That would suggest FY18 guidance around $4.80-$4.85 (with that benefit added back, but not growing). But buybacks are incremental to that figure; a pace similar to this year (and past years) suggests a ~3% benefit and EPS around $5.
And then there's tax reform. Assuming a 25% tax rate against a likely ~33% this year (including the stock-based comp accounting change), FY18 EPS now is getting toward $5.60. (Consensus is at $5.23,…