Summary
National Retail Properties is a strong buy again.
The commercial property REIT has excellent portfolio and dividend coverage stats.
The correction offers income investors an opportunity to gobble up a high-quality REIT at a decent price.
Shares sell for a reasonable AFFO multiple.
An investment in NNN comes with an entry yield of 5%.
National Retail Properties, Inc. (NNN) is a high-quality commercial property REIT that I see as a "Strong Buy" after the company's shares got kicked to the curb during the most recent stock market stampede. National Retail Properties has a highly diversified real estate portfolio, top-notch occupancy rates, excellent dividend coverage stats, and a high margin of dividend safety. An investment in National Retail Properties comes with an entry yield of 5.0 percent. The yield on cost is almost guaranteed to increase going forward.
I added National Retail Properties to my DGI portfolio at the end of last year, largely for these three reasons:
The commercial property REIT has excellent cash flow and, by extension, dividend coverage;
National Retail Properties has a history of growing its dividend payout throughout the economic cycle; and
National Retail Properties has excellent portfolio statistics, especially as they relate to portfolio diversification and occupancy rates.
Though I have racked up some paper losses thanks to the recent drop, I think National Retail Properties is an excellent long-term income play. The REIT's lease portfolio creates very strong recurring cash flow and the AFFO payout ratio remains very conservative.
Like most high-yield income vehicles, National Retail Properties suffered from the bloodbath in the stock market, with shares slumping ~12 percent year-to-date.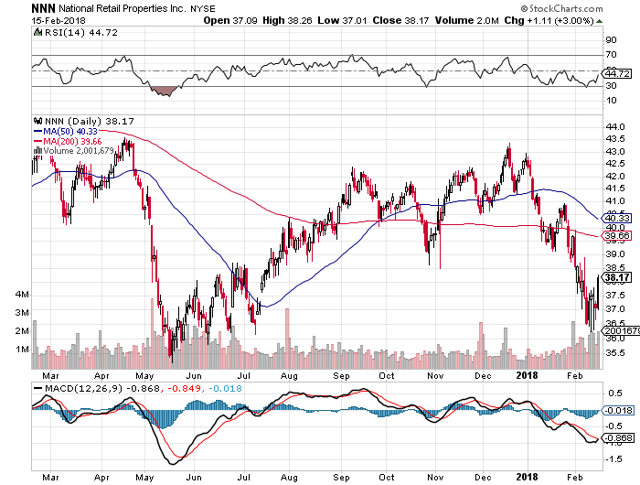 Source: StockCharts
Strong Dividend Coverage
National…