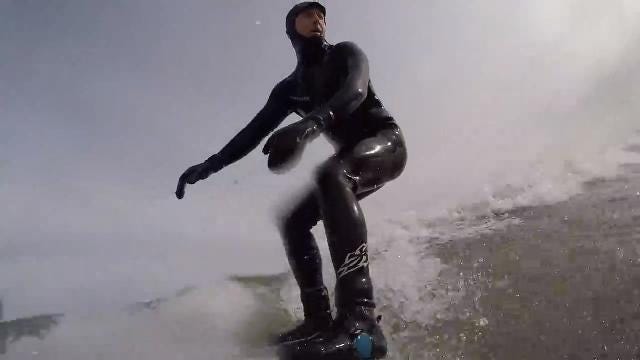 "A lot of people think we"re nuts. And we are," Aurelien Bouche-Pillon said about riding the swells of Lake Ontario during a nor'easter. (March 21, 2018) Max Schulte
If the future of retail in Rochester is experiential, then a new shop hopes to ride that wave.
Speaking at an urban retail trends discussion, Fred Rainaldi, said the idea is to offer consumer experiences.
And the developer of the Culver Road Armory is putting his money where his mouth is.
He's investing in a new surf and snowboard shop called Neon Wave at 1328 University Ave. near the Neighborhood of the Arts.
Neon Wave will open June 1 and will feature fashions by popular brands such as Saturdays NYC and Burton snowboards. In addition to selling goods and serving its customers, it plans to give back by partnering with the Center For Youth and introducing the sports of snowboarding and surfing to teens who would not have access to them.
"You always try to create customers where you don't expect to," Rainaldi said.
Rainaldi was one of four speakers at a discussion on retail trends…