Six years ago, after searching for the perfect mouthguard for years, hockey enthusiast Frank Rabinovitch created the eCommerce brand Impact Mouthguards. Finding that old-fashioned off-the-shelf mouthguards didn't fit anyone well, and custom-made guards from private dentists cost an arm and a leg, he set out to create an alternative.

Relying mostly on word-of-mouth at the start, Frank has managed to grow a $600K business in just six years, enjoying a 30% year-on-year growth and winning sports contracts with athletes and clubs. Now with 11 employees all dedicated to creating the perfect mouthguards for athletes around the world and expanding on their customization options, Impact Mouthguards is an excellent example of how online sellers can dominate their niche!
We interviewed him to find out how he got started, the ins and outs of his successful manufacturing process, and how he has managed to stand out in his niche. So sit back, grab that coffee and be ready to get inside business tips from this 6-figure eCommerce seller.
1. Tell us about how you got started.
I am a lifelong ice hockey player who never wore mouthguards because what was available off the shelf was terrible. They didn't feel good or fit right so I just played without, as so many players do as adults.
About six or seven years ago, a friend of mine, who I have played with for years, went to a dentist and got a custom mouthguard made. He loved it so much, he convinced me to go to this dentist and get a mouthguard made as well. After getting it done, when they handed me a bill for $200, I thought, "Wow, this is absolutely crazy!"
I paid the 200 bucks, and found this perfectly-fitting mouthguard was now something I couldn't play without. That really changed my personal perspective on mouthguards and what they can do for you when they are made right.
At the time, my kids were young teenagers and were playing lacrosse and ice hockey, and both were having the same problem with mouthguards. We would go through multiple mouthguards each season, and as a coach, I saw that the other kids were having the same problem. Obviously, spending $200 for custom guards is just too expensive for most athletes, which is why I set out to craft a guard that was better than what I received at the dentist, but at a more athlete-friendly price.
We started with friends, family and people we knew through hockey, and through word-of-mouth, it has grown into a 6-figure business. We have since added tons of designs and options. People want custom products, so we now upsell a wide variety of custom designs – from flags to smiley faces – giving customers more of a choice. Our most popular custom designs include flags, faces and fangs.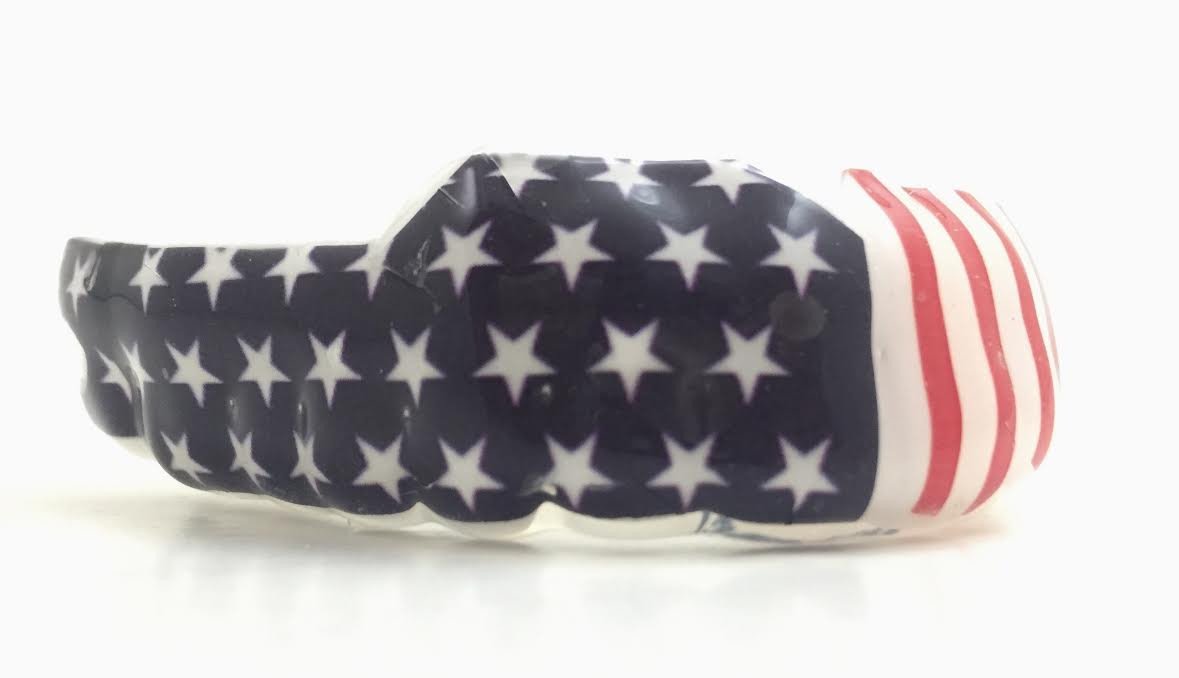 2. Take us through the manufacturing process of launching your first product.
Because I am not a craftsman by trade, manufacturing was an interesting thing for me. Once I decided that the idea was good, I went out and started purchasing the equipment, not knowing how I was going to make the guard. I made a couple of prototypes myself, which were at first really poor; but I kept trying.
I went out and found some business – a whole hockey team that wanted to order mouthguards. I got their impressions, not knowing at the time how I was actually going to start. However, I was lucky enough to meet a craftsman from the dental trade at that exact time. I found him while I was buying another piece of equipment that I didn't know how to use, from a lab going out of business. I asked them, "Do you know anybody who knows how to make a mouthguard?" and they made the introduction.
Being in the trade, he fully understands the formation of teeth and the architecture of the gum line, and so around him we bought the finest equipment, hired additional people and grew the business based on his expertise.
3. How are you able to ensure each of your mouthguards fit perfectly to your customers' mouths?
We had to figure out a way for everyone to be able to give us an impression of their teeth in order to ensure a perfect fit for every guard. We started two ways: One, we had on-site visits, where myself or one of my staff members would go to a team and help them with their impressions. Or two, like we now do with the majority of our business, we send a kit out.
We developed our in-home impression kit, which, once you place an order on our website, we send to you. It enables you to do the impressions at home, yourself. Right at your kitchen table, you mix the putty, put it in and bite down, and that sits in your mouth for a couple of minutes – and it's done. You wiggle it out, put it back in the bag, back into the prepaid box and send it back to us.
Our churn rate is quite low at this stage, with only 2-3% of people not returning their impressions.
4. Describe how you coordinate the workflow of your eCommerce business.
We have a well-rounded team, with nine permanent team members. We increase to up to eleven team members when demand is higher for merchants of our mouthguards.
As a business owner, I do everything from cleaning the toilets to marketing. However, I largely focus on sales and marketing. All production is handled internally, and I am very involved with that as well. So yeah, many hats, but I like to focus on sales and marketing.
The rest of our team includes production staff in the lab who craft the guards, a couple of folks in customer service, and then we have those that help us with sales. The sales team will follow up on leads that come through our website, particularly teams, academies and gyms.
In the case of gyms and academies, we introduce ourselves and explain how our product works, and then work with them to become resellers. We now have 95 gyms and academies selling our product.
Additionally, my son and daughter work here when they're home from school. My son helps with our social media; he enjoys that and has several accounts of his own that he has grown pretty substantially. This summer he will focus in on our Instagram account, which has probably around 50 or 55 hundred followers and we'll be looking to double that before he goes back to school.
5. Describe the competition surrounding your niche.
Dentists are what I would call a light competitor, because they make one-off mouthguards but are not really specialising in them as we do. Our main competitors include one or two online suppliers that are similar to us, in the sense of making a custom product…