Summary
TJX is a strong operator in the retail space, shrugging off threats from Amazon and recessions.
Earnings came in strong, as expected, and the financials look strong enough to continue hiking the dividend for a long time.
Although the company is trading somewhat above its long-term valuation, I rate the company as a buy for the long-term.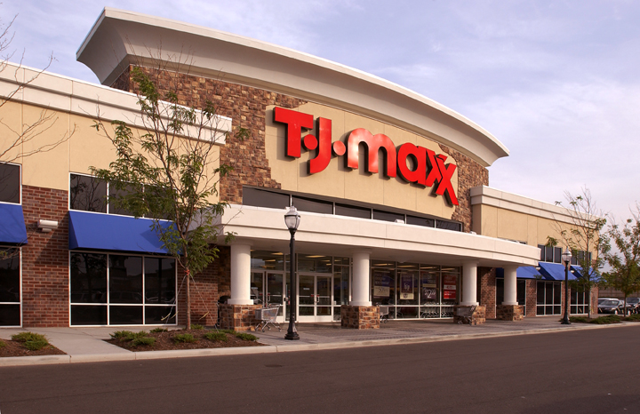 There has been a lot of discussion about what the future of retail will look like with the rise of Amazon (AMZN). Every few months, it seems that an Amazon press release can sink an entire industry and everything from pharmacies to retailers to grocery stores are going into terminal sales decline. The sentiment seems to have shifted back to a more reasonable middle ground, and Amazon is even opening some physical locations as all the historically physical retailers are investing heavily into their online presence.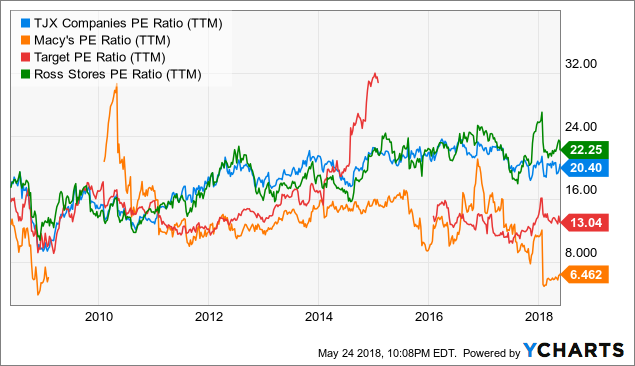 TJX Companies (TJX) and its key competitor Ross Stores (ROST) have nearly always held a valuation premium in the sector due to the nature of their business and their long-term profitability. Compared to other retailers that have been beaten up pretty regularly on Amazon news, TJX and ROST have held up, and it's because it's difficult to poke a hole in the companies' business model.
TJX is able to resist investor fears of the Amazon effect because a large part of its business model relies on its physical locations. Its customers want to dig through the merchandise like a treasure hunt to find the best deals, and the clothes are cheap without being cheap quality. There is something about finding the deal hidden on the racks in the store that isn't the same when scanning through an online list of items. This may have been a tough sell for some investors, but the company's results bear out.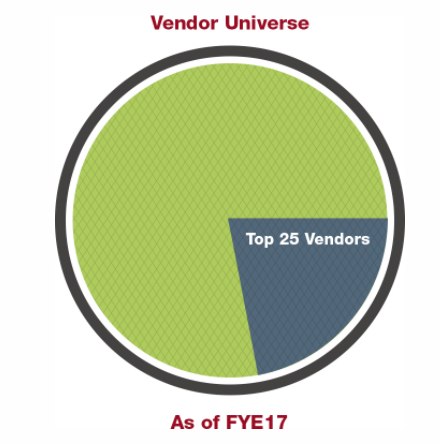 Source: Company Website
TJX has a massive sourcing network of 1000+ buyers in 16 offices across 12 countries. The network of suppliers it has built over the years now numbers >20,000 across more than 100 countries, and the company has managed to continuously grow sales and never experience any issues with maintaining inventory levels.
Ernie Herrman, President and CEO had this to say on the call:
Right now, there is an unusual degree of supply across all, I would call it, tiers of vendors and goods quality and brand level. So we are talking probably in general more better brands. And we hear by the way — we get asked all the time, we hear all the dialogue that's happening in the industry about vendors and manufacturers cutting back. It's just nothing in our pipeline or with regard to our buyers, what they are experiencing reflects any of that dialogue. It's been the complete opposite. And my team has never had it more challenging I would say to be selective on how much we buy how quickly. It's been that plentiful out there, I would say. And the interesting thing is usually it varies more by — well, it always varies by category, the degrees to the availability. But right now, it seems to be in most every category across most every tier or brand. So it's a little puzzling to the degree.
Although I haven't seen much of the dialogue the CEO is talking about recently, it is more often than not one of the marks in the bear column when looking at how the company operates. However, in 41 years of operations, TJX has yet to have an issue finding quality merchandise to stock its stores, no matter how large the company has become. Clothing manufacturers will continue to run into order cancellations, factory overruns, and brand closeouts and need a place to liquidate their supplies to for a bargain price. One of the competitive advantages TJX holds which contributes to the company's moat is the relationships it has cultivated through its experienced buyers, like I mentioned previously.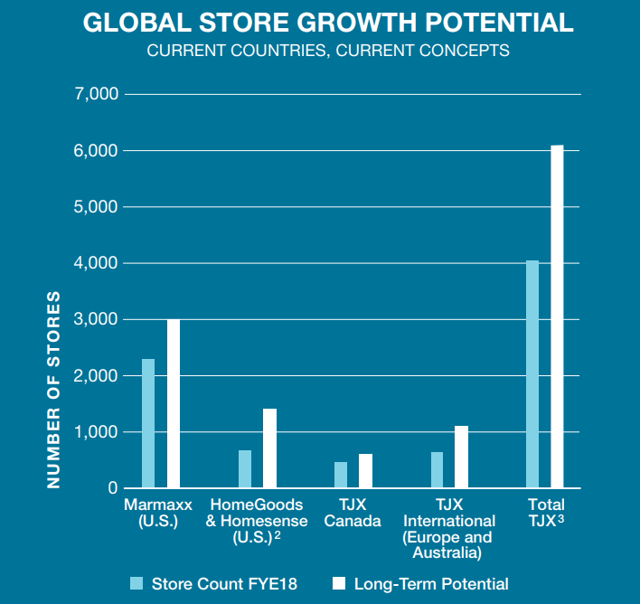 Source: Annual Report
As far as the company's store growth goes, it is often a topic of hot debate with successful retailers as to how much farther they have until they reach market saturation. I own Starbucks (SBUX) and looking around in some cities, it's amazing to me that 2 stores can stay open within a block of one another. At a certain point, companies run into diminishing returns, and cannibalization of sales when opening more stores. However, TJX has a few things going for it in that regard.
The company has the HomeGoods and HomeSense brand. These stores are complementary in terms of the company's core competency, and they have branched TJX into another area with a long growth runway that it has shown itself to be just as successful in. Looking at management projections, it's expected that the store count in that brand could double before the company reaches market saturation in just the markets it currently sells in. I definitely see it as a possibility for the company…