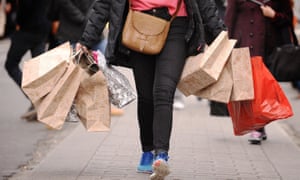 Britain's retailers suffered the sharpest drop in business in more than two decades last month as bad weather, the squeeze on household budgets and the timing of Easter led to a hefty cut in consumer spending.
In the latest evidence of the slowdown in the economy since the turn of the year, the latest health check from the British Retail Consortium (BRC) and KPMG found that sales were down by 3.1% in April, the biggest decline since the survey was launched in 1995.
Spending on non-food items has been particularly hard hit over the last three months, and retailers are braced for tough trading conditions to continue for the rest of the year even though wages have now started to rise more quickly than prices.
Retailers have been hit hard by a combination of problems on top of the squeeze on spending, including higher labour costs as a result of increases in the minimum wage, the shift to online shopping and rapidly changing spending patterns.
Toys R Us and the electricals retailer Maplin collapsed in February and a number of…