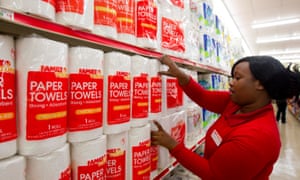 While online retailers have transformed the landscape of American commerce, the largest three dollar-store chains are prospering offline, opening more than 1,800 stores last year.
The cost of a trip can be so negligible – the average customer drops $29 a month – and dollar stores have grown so ubiquitous, that it's hard to countenance what economists confirm: visitors to dollar stores are often paying more than well-off consumers who shop elsewhere.
"If you're budget-constrained, then you make choices that are not optimal," said the professor John Strong, a dollar-store expert at the College of William & Mary.
The bags of flour at a Dollar Store just south of San Francisco cost only $1, but they also only weigh two pounds. Most bags in the supermarket are five pounds, and can be scored for less than $2.50 at cavernous retailers like Walmart or Costco – though these require time and, often, a car to access. The dollar-store shopper would pay an equivalent of $5 for this much flour.
Dollar store raisins are only 4.5 ounces. At a big box store, however, 72 ounces of raisins cost $10.50 – meaning dollar store customers are paying 52 percent more.
Cartons of milk at a dollar store are only 16 ounces – which prorates to $8 per gallon, more than what you'd pay for even top-of-the line milk at Whole Foods.
Deep-discount retailers have flourished in recent decades, popping up like mushrooms in the depressed locales big-box stores economically eviscerated in the decades before.
The Family Dollar chain opened up…