Summary
Both regional malls and shopping centers have been on a tear as consumers continue to spend on experiential products.
Timber took it on the chin and is the only sub-sector in negative territory over the last month.
The recovery of self-storage has been a surprise to me with a 31% return over the last year, much of it in the last 3 months.
This idea was discussed in more depth with members of my private investing community, REITs, Opportunities & Income .
Regional Malls and Shopping Centers continue to be on a tear with this week's returns at 5.8% and 5.6%, respectively. However, Single Family Home REITs were also solid with a 3.9% return for the week.
Overall, REITs continue to perform well despite expectations of rising rates. This isn't surprising at this stage as REITs tend to lag when rates first start rising then move in line with economic growth. The YTD returns for the MSCI US REIT Index (RMZ) are still negative at -1.3%, which is 4.3% behind the performance of the S&P 500 (SPY). However, over the last 3 months, the REIT index is up 10.5% versus just 4.2% for the S&P.
The best performing REIT sectors over the last 3-month period are Regional Malls and Self-Storage with 18.4% and 18.5% returns, respectively. I expected Regional Malls to perform well based on the strategic shifts to experiential versus retail product, strong consumer confidence and spending, and a robust job market.
One of my favorite sectors – Timber – had its run, and now seems to be stagnating a bit. That said, it is up a decent 6.7% over the last 6 month period and 5.4% YTD. The last 5 days of trading have been rough, as the sector sold off by 1.4% on an initial drop in Lumber prices that eventually recovered by the end of last week. I still like the sector and think the recent slight pullback is a good time to add to a position that isn't already at full allocation.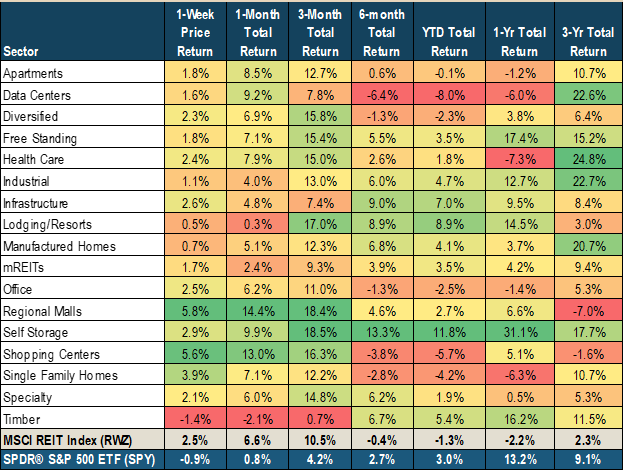 Returns as of early morning 6/25/2018
Note: Returns are based on the average returns all REITs within each sector. Not market-weighted.
Top and Bottom Performers
1 month Returns ending May 2, 2018
Top 5

Bottom 5

REITonomics
The economic environment seems to be humming along and despite some indicators pointing to potential headwinds, the overall economy is still growing despite Fed rate hikes that so far have been quite benign.
Building Permits
Another reason why Timber REITs may have sold off is the decline in Building Permits, a leading indicator of housing activity. As the chart below indicates, it can be a volatile metric but the trend is still positive and the overall number has been above 1.2M since mid-2016. I wouldn't worry about a decline in homebuilding until permits fall for a few consecutive months and even then, there is still quite a bit of in the pipeline.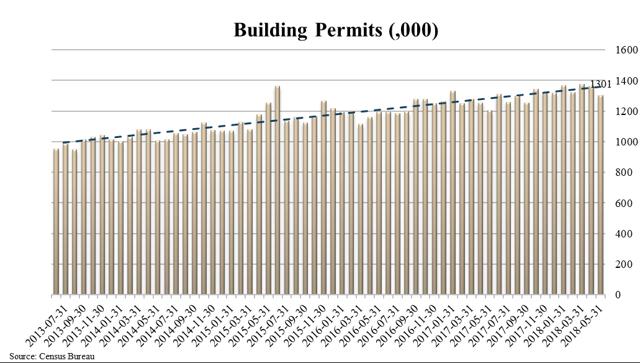 Housing Starts
Housing starts this past month increased from the prior month and hit the highest level in this cycle. So despite the drop in permits, it seems housing starts are still on solid footing and gaining momentum. Surely, we have to keep an eye on any further deterioration on building permits that could lead to a decline in housing starts, but as of right now, housing still seems to be OK. Eventually, housing starts turn into homebuying which should put a ceiling on single family rental rates but based on their stock performance over the last 3 months, single family REITs seem to be shrugging off the imminent new supply. There are underlying factors this could be attributable to, such as the types of homes being built not necessarily fitting the starter home profile – while Millennials are still not 100% convinced of the value of homeownership.