It's the first day of class at Instagram. Students check in at two security desks and sign non-disclosure agreements before heading up to the photo-sharing app's Manhattan offices. The 20 or so guests, almost entirely women, stride past the cluttered workstations of Facebook Inc. engineers and into a conference room.
In attendance are executives and marketing managers from various fashion and beauty companies. Birchbox, a seller of makeup and bath products that's raised $100 million and jump-started the subscription box craze, sent six. Another group from Madewell—J.Crew's sister brand—sits up front. Big names from denim brand Ayr and Soludos take their seats. Even famed designer Cynthia Rowley makes an appearance, along with the president of her label. So does her daughter, Kit Keenan, an Instagram influencer who has been featured in Teen Vogue and Refinery29.
They've all come to learn how to make piles of money using the ubiquitous app. But the folks at Instagram have a lot to learn from them, too.
Vishal Shah, director of product for Instagram Business, told the assembled crowd that he wants to figure out how the platform's most avid users buy things. "Shopping isn't a linear journey," he said. "It's not even a funnel, in the typical sense. We actually refer to it as the noodle."
That noodle is about to become the way a big part of the world consumes.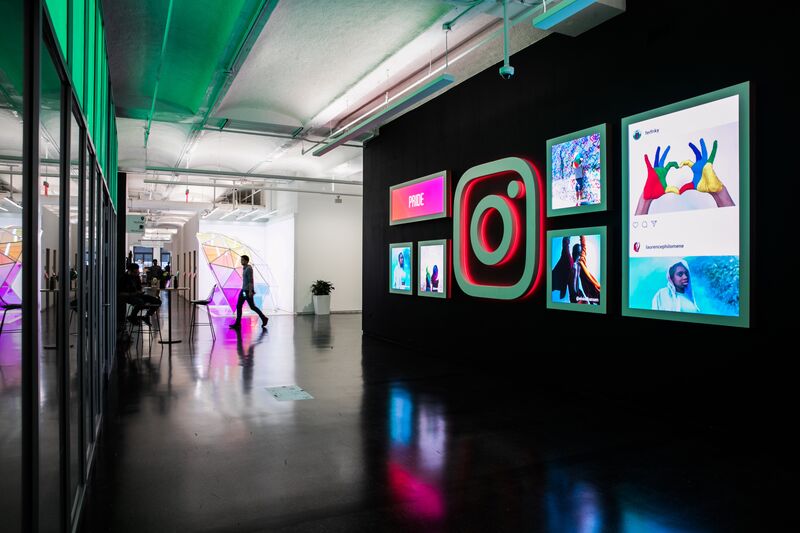 Once, Instagram was a simple photo-sharing app, a way for iPhone shutterbugs to show off their latest cool pics. Now, its visual nature and 1 billion active users have sellers salivating over its potential as a place to sell everything from dresses to furniture. Of those users, 150 million interact with the 25 million or so businesses that have a presence on the app. Instagram has counted a few retailers as partners—including Macy's and J. Crew—but the platform remains an afterthought for other big names.
Bought by Facebook in 2012 for $1 billion, Instagram has spent the past three years trying to solve this shopping puzzle. Everyone is already on their phone, and the mass migration from brick-and-mortar to online shops like Amazon.com is taking the next leap, into the palm of one's hand and social media.
Yet hype around the dawn of "social commerce" has dissipated of late. Online shoppers have been slow to close their retail apps in favor of social ones. Even now, 54 percent of online buyers never make purchases that begin on social media, according to a 2017 report from visual search company ViSenze.
Smaller businesses are the ones that have found creative ways to hawk their wares on social. Young entrepreneurs are starting online stores that use Instagram to funnel shoppers to their websites. Vintage clothing retailers post outfits and reward the first commenter with permission to buy each one-of-a-kind item, creating a mad dash for dresses and pumps. If you're too slow, it's gone forever.
Instagram doesn't facilitate these purchases, however. It's all done manually by entrepreneurs. There's a gap between Instagram and the retail world—a tech entity hoping to understand an industry more concerned with fashion cycles, inventory and merchandising than how to use a flashy new feature on the app.
The company has been studying expanding niches to find out how expert users create commerce—and spreading what it learns.
A post shared by birchbox (@birchbox) on Jun 14, 2018 at 6:28am PDT
The class at its New York offices is meant to bridge that gap. "We really wanna invest in this," said Susan Buckner Rose, director of monetization product marketing at Instagram. "Really, what we want is for these businesses not to just have an Instagram presence, but be able to leverage all these tools."
Maximizing Instagram's already huge presence is a good thing for Facebook, and not just financially. The photo-sharing app provides its parent the opportunity to regain some of the cultural cool it lost long ago. Even while Mark Zuckerberg's social media monster is under sustained attack—for facilitating Russian interference in the 2016 U.S. election, leaking personal data, and not blocking hate speech—Instagram remains unscathed. In fact, some consider Instagram to be Facebook's savior, given its younger audience and concomitant marketing advantages.
On Facebook, there are neo-Nazis and…