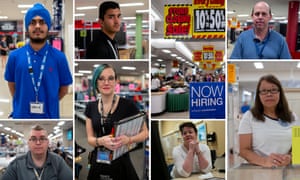 In the Sacramento area of northern California, an Amazon fulfilment centre came online last year, striking, it would seem, another blow to the local outlets of Sears, one of America's signature brick and mortar department stories.
The Guardian spoke to Sears workers at the Sunrise Mall in Citrus Heights who were told earlier this year the store would be closing down.
That Sears store and another outlet nearby in Roseville are slated to close by 15 July, following announcements by the Sears Holding Company in March and April heralding the closure of more than 100 stores.
Sahibpreet Otal, 21, major appliances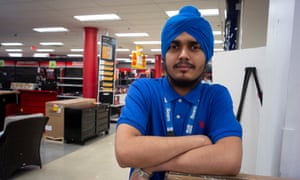 "Since April, the inventory here is being handled by a liquidation company, so it doesn't sync with Sears' website. People might say 'This cost $63 online', but we might sell it to them for $53. Or $73.
It's sad. Customers are coming up to me and saying how they've been shopping here for 40 years. Our older employees who've been here a while all live nearby. So, yeah, it's rough.
What will I do when the store closes? I'll go back to college. And apply to work at Costco."
Yousif Al Ghazawi, 17, major appliances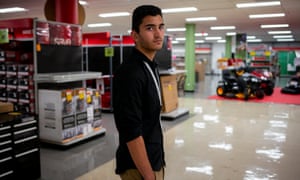 "I got here four months ago and, my first day on the job, they announced the store is closing. I had hoped to make some money, to look after myself, to help my dad with the bills. But all of those hopes went down.
Later this month there will be an expo for other stores to come and interview our employees and see if any of us are a good match for them.
After the initial announcement, a couple of workers quit. One guy had been here 20 years, and they'd never raised his pay. He was earning $11 an hour, like me.
Would I work at the nearby Amazon fulfilment center? I didn't know there was one. Yeah, I'd be interested in that."
David Rottler, 58, major appliances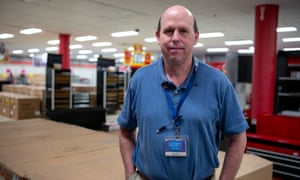 "I got here in 1998 – 20 years ago!
But after 9-11 I was called up by the air force reserves and spent three years in Qatar. So I've been here parts of 17 years. I've been down here on the bottom floor long enough that I've pretty much mastered the art of selling.
This was a day we all kind of saw coming. There was the recession, and we never really bounced back from the real-estate crisis, and Amazon took off in 2011 or so. So I predicted this, but I thought we'd have a little more time. As recently as three years ago, this store was still in tip-top shape. But then the losses to Amazon really began mounting up. These last three-to-five years is when it really began to show.
How did I react when I got the news the store was closing? Well, it was my birthday. I got an email. Thankfully, we had already…