There are two Facebook tools which, despite being launched last year, still separate Facebook ad newbies from the experts. If you find yourself asking, "What Facebook value tools?" then this post is for you!
Last year, Facebook launched two eCommerce PPC tools: value optimization and value-based Lookalike Audiences. Briefly put, value optimization is a Facebook tool that allows you to use purchase value data from your Facebook pixel to optimize your campaigns. Value-based Lookalike Audiences enable you to reach new potential shoppers who are similar to your high-value regular customers.
In this post, we look at these two must-use eCommerce Facebook PPC tools, to help you take your Facebook marketing strategy from amateur to pro.
eCommerce PPC Tool 1: Facebook Value-Based Lookalike Audiences
The first must-use eCommerce PPC value tool for Facebook ads is Facebook's value-based Lookalike Audiences. Value-based Lookalike Audiences were launched to help you create audiences of potential shoppers who match customers who are big or regular spenders at your store.
By adding a denominator to Lookalike Audiences, Facebook enables advertisers to target potential shoppers who are similar to existing shoppers who spend the most on their brand.
Why is this type of targeting so important?
To answer that, picture two main types of customers you currently have. Let's say there is the repeat customer who buys from you often, and then there's the one-time shopper who bought one highly discounted product once during a big promotion, never to buy again. Which shopper do you want more of?
How to Create a Facebook Value-Based Lookalike Audience
To create a value-based Lookalike Audience, you first need to create a custom audience with LTV. To do that, click on 'Audiences,' then 'Create new' and then option 2: 'Custom Audience with LTV.'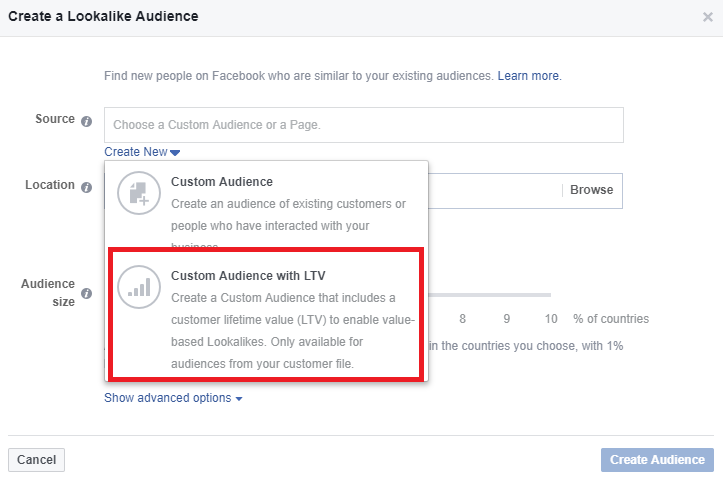 Newbie Tip: Why do you first need to ensure you have a Custom Audience set up before setting up a new Lookalike Audience? Because lookalikes are based on previously-created Facebook Custom Audiences.
Next, you will need to upload your .txt or .csv customer file, choose your customer value, and edit your data mapping to create your Custom Audience.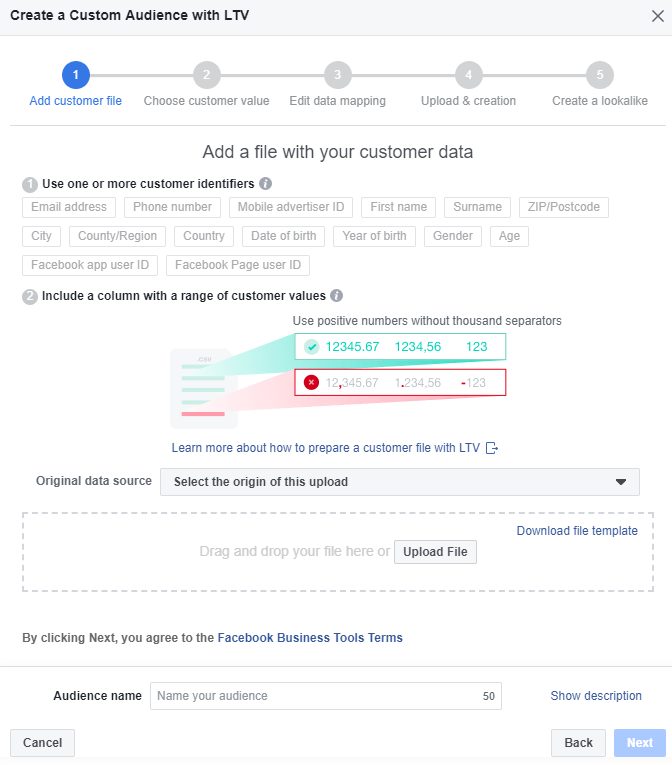 Once you have created your Custom Audience, you will be guided through creating a Lookalike Audience using the created Custom Audience as your source, which is done in steps 4 and 5: 'Upload & creation' and 'Create a lookalike.'
Tips on How to Use Facebook Value-Based Lookalike Audiences
Tip 1: Test, Analyze, Optimize
There is no doubt that working with value-added Lookalike Audiences can yield great results, but like with any new tool you…