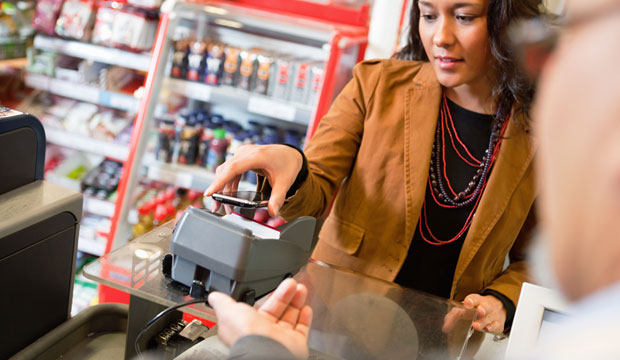 A Guide for eCommerce Merchants: Disputing Chargebacks
We created this guide to help merchants see through fraudsters' tricks & protect their business from chargebacks, without compromising the shopping experience. Download the Guide.
7-Eleven on Monday said it has begun accepting Apple Pay, and Google Pay at participating U.S. stores. The stores will add support for the services throughout this month.
Apple Pay works with all iPhone models going back to the SE (successor to the iPhone 5s). It also works with Apple Watch.
7-Eleven already had a number of other mobile payment options available, including Samsung Pay.
The convenience store chain has more than 66,000 stores in 17 countries worldwide; 11,800 are in the United States.
"A 7-Eleven is a 'hit-and-get' kind of experience," noted Michael Jude, program manager at Stratecast/Frost & Sullivan.
"Presumably, the faster the transaction, the better," he told CRM Buyer, "so a little extra speed over a credit card might be attractive — but for many people, I bet not."
Better Customer Experience
7-Eleven has introduced other digital innovations over the past few years:
7-Eleven NOW, a proprietary smartphone app currently being rolled out in select U.S. markets, lets consumers order products from local 7-Eleven stores on demand. It offers Apple Pay as a payment option.
7Rewards, an app-based customer loyalty program that lets consumers earn and redeem points on checkout. It also offers an assortment of customer experiences in and out of stores.
7-Eleven Bot on Facebook Messenger lets consumers chat with a customer service bot within Facebook.
Amazon tie-ins, including Amazon Locker in-store package pickup service, which is available in about 1,100 7-Eleven stores, and Amazon Cash, which may be used at more than 8,000 stores in the chain.
PayNearMe'svBillPay, an app that lets cash users pay various bills at participating 7-Eleven stores.
The goal is to adopt consumer-facing technology and the behind-the-scenes technologies that ensure seamless and effortless interactions, in order to enhance the customer experience, said Gurmeet Singh, CDO and CIO of 7-Eleven.
"We continue to transform our business through digital, and these additional mobile payment options are the latest enhancements we have added to our in-and-out-of store customer experience," he said.
Accepting Apple Pay and…