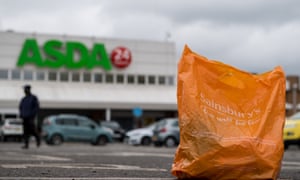 Sainsbury's and Asda could be forced to offload more than 460 stores to satisfy the competition watchdog before a planned merger.
The Competition and Markets Authority (CMA) said it had found a "realistic prospect of a significant lessening of competition" in 463 places in the UK where local supermarkets' catchment areas overlapped.
The CMA announced last week that it had referred Sainsbury's plan to buy Asda to a more in-depth "phase two" investigation but a 21-page ruling published on Thursday gives the full detail behind that decision.
The watchdog said its initial investigation to date indicated overlap within the supply or acquisition of groceries, fuel and homewares. It said the two grocers would account for just over 30% of the groceries sold by the top nine UK supermarket chains and, alongside the market leader Tesco, would control a total of 60%.
While the number of stores that Sainsbury's and Asda may have to offload to complete the deal is high – equivalent to nearly 40% of the combined group's 1,210 supermarkets – analysts expect the final number of stores that need to be offloaded could be significantly lower.
Concerns were raised about 369 areas in the CMA's initial investigation into Tesco's merger with Booker, and about 92 stores when Poundland bought rival…