Summary
Fears of the retail apocalypse hitting Ulta have decreased, leading to a higher valuation.
The cosmetics industry is growing with favorable demographic trends, and has shown resilience against recessions.
Ulta's use of services and loyalty programs help increase the psychological well-being associated with the cosmetics industry.
Ulta's business model protects them from retailers and Amazon growing in the budget cosmetics space.
A shift in focus to margin expansion next year can lead shares to excel in 2019 as well.
With the retail apocalypse and Amazon (AMZN) killing malls, toy stores, and bookstores, among others, it's understandable that investors simply avoid retail. News stations and financial analysts tell us daily that a recession is coming and it will be horrible (the more extreme the prediction, the more views it gets), so long-term investors that don't want to leave or time the market need to start looking at defense stocks. Some retail companies have served as defensive stocks, with Walmart (WMT), McDonald's (MCD), beer and cigarette stocks all common "flight to safety" stocks. But now, a defensive retail investment needs to protect against a recession, Amazon, and the retail apocalypse.
Below I plan to present a company with a business model that is built to combat all of these concerns. Ulta Beauty (ULTA) has the foundation to not only survive, but to continue their growth for the near future. I will review the cosmetics industry, Ulta's competitive advantages and growth drivers, then go over what risks they face, before analyzing their financials and current valuation.
Cosmetics Industry
The cosmetics industry has several attributes that are common with other defensive industries. The first one is that the industry did not see a slowdown in the last recession, posting positive growth rates in each year.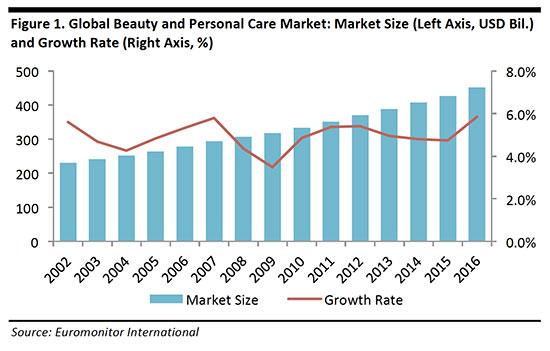 Report: Coresight Research (link here)
The reason for this is similar to what you'd expect to see in an analysis of the beer and cigarette industry: the psychological impact it has on consumers. While there is argument on whether or not the "lipstick index" is real (the theory that lipstick sales rise when the economy goes down), the psychological effects of cosmetics are more concrete. Below is a list presented by Moore Beauty highlighting the effects of cosmetics on customers.
44% of women have negative feelings when they are not wearing makeup, with 16% saying they feel unattractive, 14% saying they feel self-conscious and 14% saying they feel naked.
48% of women wear makeup because they like the way they look with it.
32% of women said wearing makeup makes them feel good.
11% said they wear makeup because it's a societal norm.
3% of women said they feel more attractive going without makeup.
It is also suggested that the emotional effects that come from purchasing cosmetics are also a cause for the industry's defensive behavior. When purchasing beauty products, a customer gets a feeling that they are treating and taking care of themselves, and purchases decrease feelings of worry and guilt in consumers (This report highlights the psychological factors in selling cosmetics).
Although the reasons why the "lipstick index" exists is up for debate, cosmetic sales saw steady increases through the previous recessions, and the psychological impact that cosmetics buying has on consumers suggests that the psychology backs up the sales growth during recessions. Put this all together, and the cosmetics industry has all the traits an investor is looking for in a defensive industry.
Changing Demographics
However, the timing of a recession isn't known, so the prospects of the industry still need to be accessed. After all, a common counter point is that an aging population would be bad for Ulta, as older consumers are less likely to follow trendy brands and Instagram influencers, and the decreasing demographic size in teens and young adults will cause a slowdown.
Although spending habits differ, and Fenty Beauty and Kylie Cosmetics, created by Rihanna and Kylie Jenner, aren't targeted towards older consumers, the cosmetics industry is expected to thrive with an older population.
A Reuters article, based on a Orbis Research report, explains the reason below,
Over the past two decades, declining fertility and mortality rates have resulted in a rise in the aging population, globally. Strong desire among men and women to retain youthful appearances has groomed and nurtured the cosmetics industry, worldwide. Rapidly aging demographics has led to a robust demand for anti-aging products in order to prevent wrinkles, age spots, dry skin, uneven skin tone, and even hair damages, creating room for new innovations in cosmetics, thus boosting the industry growth.
This leads to an expected overall increase of over 7% CAGR through 2023, which would lead to an industry value over $800 billion.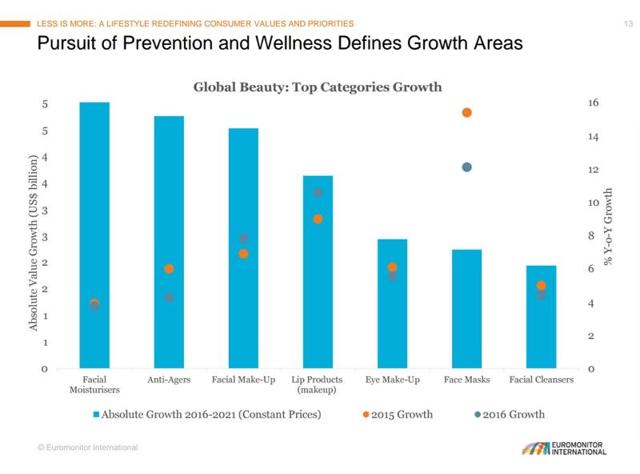 Source: Cosmetics Business (link here)
Competitive Advantages
Despite favorable industry trends, Ulta still needs to execute their business model effectively to protect themselves from the decline in retail.
Ulta is well positioned to not only take advantage of the psychological attributes of their industry, but also to protect market share from Amazon. Shopping at Ulta isn't the same as going grocery shopping, where a consumer will walk in, get their stuff, and walk out. That model was poised for disruption. Ulta presents an experience to their consumers.
Ulta offers four main services for their consumers: beauty services, a salon, a skin bar, and a brow bar. Not only did these services grow by 8.8% overall last quarter, they also serve as a moat against Amazon and other low cost competition. Consumers prefer Ulta over these other retailers because Ulta provides both services and products. Even if a consumer doesn't plan on using any of their services and is only look to buy products, Ulta offers consultants to explain products, shades, routines etc., the ability to try on makeup, take home samples of products, as well as earn free gifts and beauty points.
The beauty points are part of their Ultamate Rewards program, which offers benefits similar to Prime, as well as benefits similar to credit card rewards, as points are redeemed anywhere between $.03 to $.06 per point, depending on how many are used at once.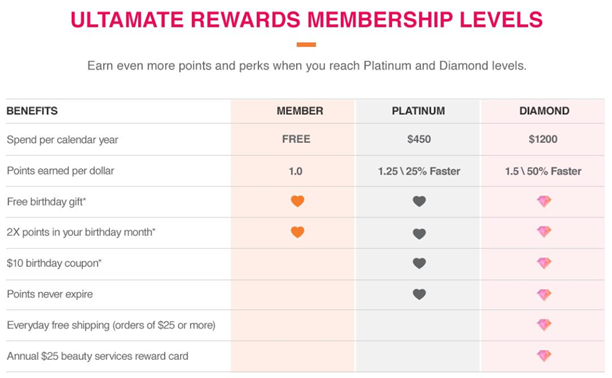 Source: Ulta
While the loyalty program is a competitive advantage that shows how retail will survive in this new age, it also creates customer profiles that Ulta can use…