You've done the hard part and attracted a potential buyer to your product page. Now, you must convince them to click the "Add to cart" button.
One thing that will help convince them to make a purchase from you is an effective product description. Despite being one of the most important conversion factors when it comes to online shopping, a product description is one of the most neglected areas.
According to one study, 20% of all purchases fail because of missing or unclear product information.
What is a Product Description?
A product description isn't just describing your product — it needs to sell it. It should illustrate what the product is, why it's worth buying and include details around the features and benefits of the product.
The best descriptions directly focus on the buyer and include language they would use. Imagine you're in a store talking to the customer face-to-face and translate this into an online conversation; this will resonate with them better. Instead of just listing the features, you need to highlight the benefits for the buyer. In other words, sell an experience, not a product.
With that in mind, here are seven top tips for writing winning product descriptions.
1. Know Your Target Audience
Before you write your description, you need to understand your buyers. Learn about where they are coming from, what gender they are and more.
Check your reviews to see what they're saying about you and your product. YouTube and other social media platforms are great sources for finding out how customers use your products and what they're saying about your company.
Here's a great product description from Innocent about their Seriously Strawberry smoothie. It highlights the drink's key features with three clear bullet points and sells the drink with a product description that will resonate well with its target audience.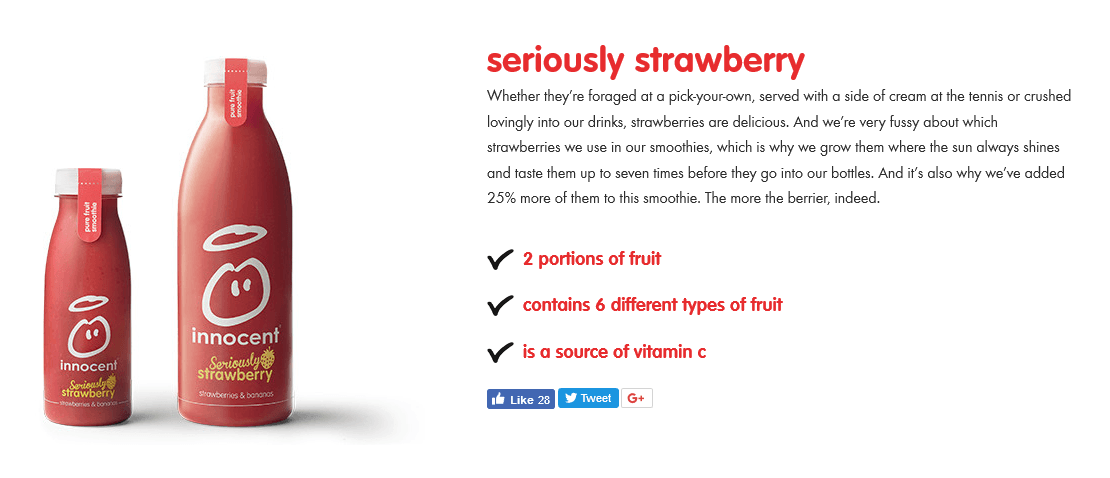 2. Put Yourself in the Buyer's Shoes
It's useful to put yourself in the buyer's shoes and browse as you expect they would.
Ask yourself questions like:
What did you like/dislike?
How does it compare to other listings?
Why did or didn't you make the purchase?
3. Do Your Keyword Research
Keywords are relevant search terms that allow people to find products. To optimize your product listing, it's useful for sellers to know what keywords they are targeting and ranking for. You should only use keywords that are relevant, and they should be added to appropriate places within your listing such as the title and product features.
To find keywords, you need to think like a customer looking for your product. You can use tools like the Google Keyword Planner or Amazon to help with your keyword research.

4. Consider Your Language
You've probably seen the phrase "excellent product quality" in lots of online product descriptions, which is fine, but as it is overused it has little impact on potential buyers. Sellers aren't going to state, "average product quality" so it becomes a bit redundant in the mind of a buyer.
Hubspot stated that using certain words can help boost your sales and turn visitors into buyers. The list includes: you, value, do, imagine, see, opportunity and their name.
Companies such as Marks & Spencer successfully use sensory words that refer to taste and sound to produce vivid product descriptions.
Here's their description for their Belgian chocolate cake, which will leave you salivating!