It was a big year for Ecwid E-commerce…
From new integrated ways to sell online and incredible partner acquisitions, to a new office for enhanced customer support and a completely revamped storefront, the last 365 days have been huge for the Ecwid community.
Whether you're an Ecwid veteran or new to the crew, we're glad you joined us. In the spirit of e-commerce friendship, let's take a look back at some of our biggest milestones of 2018 and find out what's to come in this new year.
Mobile-Ready Native Facebook and Instagram Stores
With two billion active users on Facebook and another billion on Instagram, social selling is quickly becoming the next big thing in e-commerce. And 2019 is primed to be a huge year for these growing channels. For the last year, our goal here at Ecwid has been to get you ready to ride that wave.
With an Ecwid account, you can automatically upload (and sync) your product catalog to the mobile-friendly "Shop" section on your Facebook business page or connect it right to your Instagram business profile to tag products in your posts and drive sales with dynamic advertising.
Our tools make it easy to convert Facebook and Instagram followers into paying customers by enabling users to purchase your products directly from their favorite platforms.
Read more about these releases:
Marketing Automation Tools for Small Business
Like many small business owners, it's easy to feel intimidated by the sheer breadth of digital marketing tools and techniques at your disposal. Here at Ecwid, we work hard to make digital advertising approachable for our merchants — from e-commerce experts to Ecwid beginners. In your Ecwid Control panel's Marketing section, you'll find a variety of tools and tips to help you secure your first sale.
In 2018, we implemented new marketing automation integrations for two of the largest PPC advertising platforms on the planet — Google and Facebook. In just a few short clicks, you'll have tailored ads appearing in Google search results as well as feeds across Instagram and Facebook. Just decide which products you want to advertise and how much you want to spend, and our automated tools will do the rest. Find these and more available from the comfort of your cozy Ecwid Control panel.
One big fear for new advertisers is the possibility of wasting money on ads that won't perform. With Ecwid marketing automation, our artificial intelligence keeps an eye on your ad performance 24/7, carefully placing bids to ensure only the most effective ads are displayed — so you always get the most bang for your buck.
And be sure to check out other Ecwid automated marketing features like Abandoned Carts Recovery Emails to recapture shoppers who failed to complete a purchase. Ecwid users who send follow-up email reminders see an average of 15% more completed orders. Switch to our one-page Ecwid Checkout and collect even more emails for cart recovery.
Selling on Marketplaces: Amazon and eBay
Amazon accounts for roughly 50% of all e-commerce in the US, and now you can take advantage of Amazon's massive market share and unparalleled customer loyalty right from your Ecwid control panel. Export your Ecwid products to Amazon, customize prices and descriptions to optimize for Amazon's audience and sync your entire inventory automatically from your Ecwid store.
The same goes for eBay: integrate your product catalog directly to the granddaddy of marketplaces and make your products available to eBay's millions of active buyers. Automatically publish new products, update inventory and sync sales with eBay acting as an additional storefront seamlessly integrating with your online shop.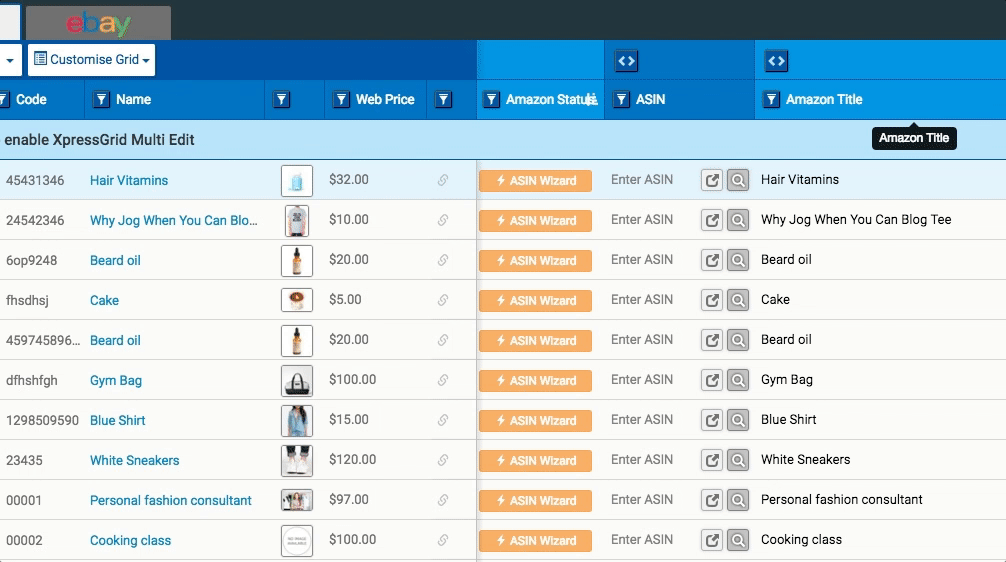 Learn more about selling on marketplaces with Ecwid and manage all your marketplace integrations in Sales Channels → Marketplaces in your Ecwid Control panel.
A Reinforced Ecwid E-commerce Starter Site
Ecwid is the only online e-commerce platform to offer a free website to sell your products on from day one (Starter Site). For the small business owner, that means you can launch your first online shop with almost zero investment! More than that, Ecwid Starter Sites offer essential e-commerce features that make it a perfect home on the web for a business of any age.
Here's what 2018 brought to Ecwid Starter Sites:
Improved SEO for Google: faster and more accurate indexation helps businesses appear on Google search results for relevant keywords, resulting in improved organic traffic.
Mobile-friendly editor: making changes to a Starter Site's content is simple and comfortable on any device, from the web or in the Ecwid Mobile app.
Storefront design blended into the Starter Site editor: play with rich store design options on a single Control Panel page with a live preview.
Anti-DDoS protection and dramatically improved performance: Starter Sites have additional protection from DDoS attacks…