After drawing a foul on what could, really, only be described as an angry attack of the basket, Andrew Wiggins removed himself from the fray and walked towards the perimeter before stepping to the free-throw line. He was alone and staring into the distance when a camera grabbed a glimpse of Wiggins as he threw his right shoulder forward while his arms flexed for a split second. For the first time in a long time, Wiggins actions said what so many have been waiting to hear: get the f— off me.
It was LeBron James-esque but unlike Bron. Wiggins didn't do it because the cameras were on him; he doesn't care about that sort of thing. No, Monday night against the Oklahoma City Thunder marked (exactly) four-and-a-half years in the NBA for Wiggins and he decided on this night that the biggest change in the first night of the post-Tom Thibodeau era wouldn't be about coaching schematics, rotations or playing time. Wiggins decided this night, much like Derrick Rose's 50-point performance on Halloween, was going to be about proving something no one believed in: he can do this.
Wiggins scored nine more points (40), grabbed four more rebounds (10) and got to the free throw line six more times (18) than he had in any of the team's first 40 games of the season.
Over Thibodeau's two-and-a-half years at the helm, the former head coach may have used the phrase "second-effort mentality" 100 times in his dialogues with the media. For the first time in Wiggins' career, that description defined every minute of the 38 he played. Apparently, all that needed to happen was someone else tell Wiggins to do it — his friend, Ryan Saunders.
Other than the "GTFOH" shoulder flex, another play of Wiggins' popped; again, one reminiscent of Rose's 50-point performance.
With under two minutes left in the game and the Wolves' lead down to one, Wiggins stunted into the lane on a Dennis Schroder drive, showed on a kick out to Russell Westbrook and recovered to Paul George in the corner. To boot, he got a finger on the shot attempt, allowing the ball to flutter into the hands of Karl-Anthony Towns. Possession over.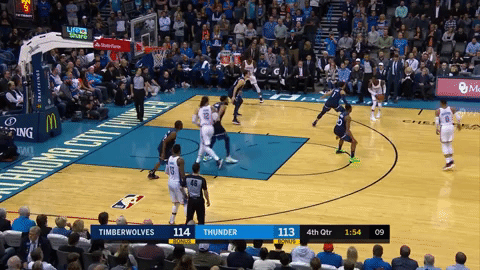 The tri-fold effort mirrored Rose's game-saving block against the Utah Jazz in a game he, like Wiggins, expended everything to seal a victory.
(I'm sure if there wasn't time left on the clock after Wiggins' block, Josh Okogie would have also hugged Andrew.)
Wiggins' energy has long been an enigma — beyond mysterious, and only a safe bet to percolate in games against Cleveland (who drafted him, gave him the runabout and then traded him) and Toronto (his hometown team). Tuesday's performance, similarly, had an extra something on the line as it was Saunders' first game on the sidelines. The difference, however, is that the Wolves only play Cleveland twice a year and in Toronto once; Saunders will be Wiggins' coach indefinitely, and maybe… forever.
The single-greatest feat Saunders could achieve as the team's new head coach is to get Wiggins to "keep that same energy." But there are other changes to come. Tuesday we saw remnants of a few.
Proddings for Pace
As the "Players Only" broadcast on NBA TV aptly noted, the first play Saunders called was a version of his father's favorite "twist" set. A cool hat tip to the late Flip Saunders and maybe not so ironically, given the era Ryan's father coached in, the result was a 20-foot 2-point jumper that came with 1.5 seconds remaining on the shot clock.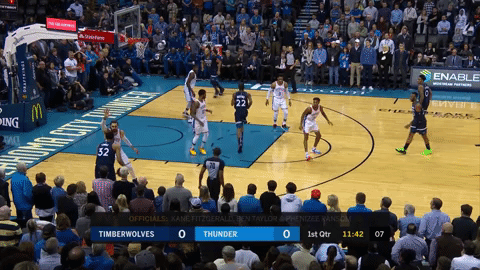 Enticing, for those who believe that this Timberwolves team is in desperate need of a kick up in pace, is the notion that after this play the Wolves only took six shots that came in the final four seconds of the shot clock. (And only two after Jeff Teague was ejected from the game.) A season…