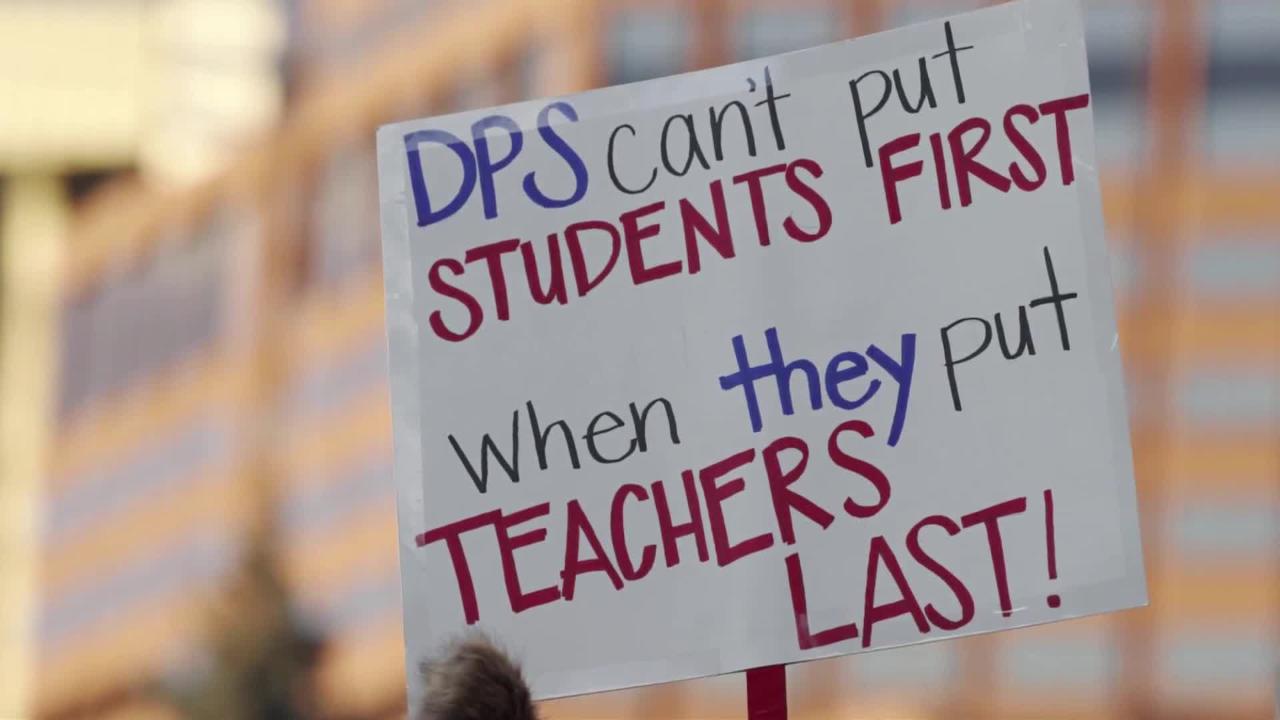 Denver teachers are planning to strike this week for the first time in 25 years, following similar strikes in cities across the US. Associated Press
DENVER – Thousands of teachers are set to walk off the job Monday after failing to reach an agreement with Denver Public Schools administrators over salaries and bonuses – the latest in a year of teacher strikes across the nation.
Though classrooms would be staffed by substitutes and administrators, the strike would significantly disrupt operations at the 207-school district, administrators acknowledged. Early-childhood classrooms would be closed, leaving about 5,000 preschoolers at home.
The strike would bring picket lines outside schools and rallies at the park between the Statehouse and Denver's City Hall. The union, the Denver Classroom Teachers Association, represents about 5,635 educators.
"It's not going to look like a typical school. We want to be honest about that," Superintendent Susana Cordova said.
The two sides met Saturday but were unable to resolve their differences. The union left negotiations, declaring the strike would happen Monday.
Teachers in America: No matter where they work, they feel disrespect
More: More strikes ahead? Teachers say they love their jobs but can't pay their bills
How will a strike look?
It's unclear exactly how the strike will affect schools and for how long.
Administrators prepared lesson plans and secured substitutes, and they plan to have schools open for at least the first few days of a strike.
Among 207 schools and about 90,000 students, any disruption could quickly ripple out. DPS is one of Denver's largest employers, and some parents plan to keep their kids home in an effort to force the district to compromise faster.
Denver's voters are overwhelmingly Democrats, and that may make many parents unwilling to cross the picket lines with their kids.
What does this mean for parents?
For many parents, a strike won't make a big difference, at least initially. Though administrators said schools won't operate as normal, they will be open.
That means kids will be expected to attend classes, and meals will be served. After-school activities will run on a school-by-school basis.
If the strike lingers on, administrators might run out of substitutes and fill-ins. The approximately 5,000 preschool kids won't be able to attend because the district can't quickly meet state-mandated standards for background checks and qualifications for subs in early-childhood classrooms.
What does this mean for students?
…