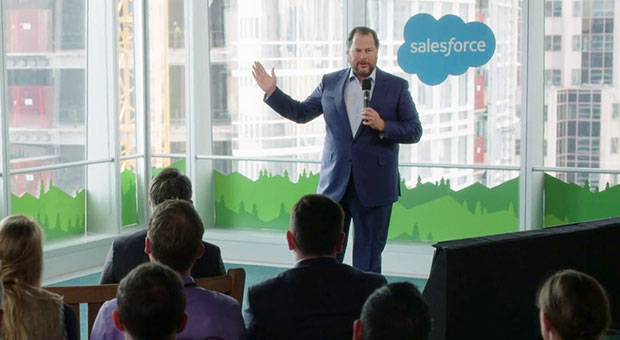 The Georgetown University Master's in Cybersecurity Risk Management prepares you to navigate today's complex cyber threats. Take classes online, on campus, or through a combination of both — so you don't have to interrupt your career. Learn more.
Salesforce will be celebrating its 20th birthday on March 8. Where did those decades go? "Time flies like an arrow," said Groucho. "Fruit flies like a banana."
There it is.
A respectable chunk of the analyst community that follows Salesforce converged last week in San Francisco inside the company's cavernous new headquarters to hear about its plans for the year ahead. I'll get to some of the non-NDA ideas floating around the sessions momentarily, but first some impressions of the first (or last?) 20 years.
Fitting the Need
In many ways, Salesforce has executed a typical and nearly flawless grassroots maneuver of the kind explained by gurus like Geoffrey Moore and Clay Christenson. It entered the market late, after Siebel was already a billion-dollar company, but its entry was not of an also-ran. From the beginning, Salesforce positioned itself as fundamentally different because it was what would become known as a "Software as a Service," or SaaS, company.
Competing with an established player can be hard. Initially, the Salesforce app comprised just four tabs, compared to Siebel's many. In fact, Marc Benioff said they were so numerous they were useless. That's nothing you'd hear from Salesforce today, with its numerous clouds. However, Salesforce was selling something that every company wanted at that point and it had little to do with the merits of its CRM — quick delivery and low costs.
You see, Salesforce arrived at the start of the century, just as the smoke was clearing from the traumatic change of financial systems to accommodate four-digit date formats.
Conventional CRM in those days was largely a custom programming market, and implementation cost metrics often stipulated that the total cost of ownership in CRM would be three to four times the software costs. They weren't wrong, and there was a kind of fatalism, at least among large companies, that that was the way things would be.
You can't grow a market or a category like that. If prices had not come down, CRM would have become a not-very-good major corporation plaything. Prices had to come down, and functionality had to expand in order to get CRM into the hands of medium-size companies and even those smaller. SaaS, with its very low cost of ownership, fit the need precisely.
Commoditization of IT
Salesforce changed that equation and in so doing gave itself and multiple other dot-com companies running room. Still, it was amazing to me even then that the CEOs of most of the other CRM competitors offering SaaS services failed to understand the importance of what they had. Most simply regarded SaaS as another delivery mechanism, rather than the revolutionary commoditization of IT that the industry badly needed.
IT in the earliest decade of the century was ripe for commoditization. It was traditional and highly manual. There were no smartphones or social media then, and analytics was a failed idea from the 1990s in need of greater CPU horsepower and data storage before it could take on its natural role.
Much of this comes together in one observation….