Good morning, this is Helen Sullivan bringing you the main stories and must-reads on Tuesday 30 April.
Top stories
The fugitive Islamic State leader Abu Bakr al-Baghdadi has appeared in a propaganda video for the first time in five years, recognising the terrorist group's defeat in the Syrian town of Baghouz. The appearance is only Baghdadi's second on video, and comes weeks after Isis remnants were ousted from their last organised stronghold in the eastern Syrian desert. The appearance seems designed to acknowledge the loss of the remaining pockets of territory and to demonstrate that Baghdadi is still alive. Written in text on the video, but not spoken by Baghdadi, is a reference to the Easter bombings in Sri Lanka, which killed more than 250 people in churches and hotels.
Labor remains in front in the latest Guardian Essential poll, but only narrowly, with both major parties recording improvements in their primary votes from three weeks ago. Labor is ahead of the Coalition 51% to 49%, which is movement within the margin of error in the government's favour from the last survey on 8 April, which had Labor in front 52% to 48%. On Monday night Scott Morrison and Bill Shorten faced off in their first televised debate, which provided a numbing spectacle for a very small number of viewers. "The basic dynamic of the 2019 contest was there for all to see," writes Katherine Murphy. "Morrison really has nothing to say beyond don't vote for Shorten. That is it."
Clive Palmer has promised a $7m trust fund for hundreds of Queensland Nickel workers who lost their jobs but lawyers representing the workers say no details have been given. The lawyers say they are unaware of how the leader of the United Australia party intends to pay outstanding entitlements despite his claim to be establishing the fund. Queensland Nickel was placed in receivership in 2016 with 237 workers made redundant just three days before and hundreds more made redundant as part of the receivership. The liquidator has said Palmer could have advanced the funds to him for distribution but he had not been asked to assist.
World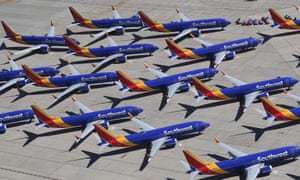 The head of Boeing has denied accusations that its two 737 Max aircraft involved in fatal crashes lacked an optional safety feature which might have alerted the pilots to technical malfunctions that partly caused the accidents.
Spain's socialist party has begun weighing up its options for government after storming past its traditional conservative rival in Sunday's snap general election but failing to win a majority.
A US official has warned that the UK's leaked proposal to adopt Huawei technology for 5G mobile phone networks risks affecting intelligence cooperation.
Concerns have been raised that the anti-vaccination movement is targeting children via Amazon warehouses after a woman in the UK found a leaflet condemning the HPV vaccine tucked inside a children's book she had bought from the online retailer.
Marine experts in Norway believe they have stumbled upon a white whale…